Here at Asynt HQ it already feels like 2018 is moving very quickly! There is a lot going on but I wanted to look back at 2017; an important year in Chemistry and for Asynt.
Those everyday heroes at Compound Interest shared a fantastic infographic detailing the Year in Chemistry 2017; I was quite tickled to see there was a World Record broken for the tightest knot (not realising that this involved some serious chemistry!), and noteworthy information on how poisonous frogs don't poison themselves but also many other important advances and breakthroughs in knowledge and discovery.  Click the image below to see their article in full: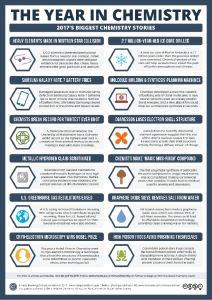 Here at Asynt we also progressed in many areas; with product development and custom design/build requirements at the forefront of our work we completed a large number of unique projects for scientists both in the private and academia sectors, brought some exciting and innovative new products to market, and expanded our team to allow us to better support our customers worldwide.
Just a few of our newest products are:
The DrySyn OCTO 8 Position Reaction Station allows powerful magnetic stirring and heating, inert atmosphere and reflux, all with a tiny footprint.

The DrySyn Spiral Evaporator which enables scientists to evaporate tubes directly in DrySyn reaction vial blocks up to 4 samples at a time utilising the patented spiral plug evaporation technology from BioChromato originally used in the Smart Evaporator.  The DrySyn Spiral Evaporator offers fast and effective parallel evaporation in tubes without solvent bumping.

The ReactoMate QUANTUM support is the perfect addition to any process chemistry laboratory.  Designed to be an entry-level system, the QUANTUM support's basic design makes it easy to set up and is suitable for all reaction vessels from 100ml up to 5,000ml.  With a wide range of support stands and accessories, ReactoMate offers a complete solution to your reactor needs from desktop to pilot scale.
We are excited to confirm that we will be launching a variety of new and useful tools in 2018 so do watch out for further updates.  If you'd like to contact us and discuss any novel requirements you would ideally like met this year we would be so pleased to hear from you.
In the meantime, the Asynt family would like to wish you a very Happy New Year and all the best for 2018!