Scientific glassblowing is a bit of a mystic art.  Quite a lot of talented people can produce glassware that's beautiful, but until you've seen a graduated triple wall glass reaction vessel built it's hard to appreciate just what can be achieved with such a tempestuous material.
A solid foundation
Asynt's founder, Martyn Fordham, actually began his career by training and working in  scientific glassblowing.  This knowledge means that when it comes to providing glassware to our customers he knows what's right and what isn't.  In addition, everyone in our sales team is a PhD chemist so they understand the impact that conditions such as the shape of a reaction vessel can have.  They also know that small details in the configuration of arms and drain valves make a big difference to how you use your system.  Combine these facts with some of the best scientific glassblowers we've encountered in over thirty years and you'll understand how our glassware takes the lead!
Bespoke manufacturing for your chemistry
At Asynt we don't believe in making your scale-up chemistry fit a standard design.  Our ReactoMate range of jacketed and vacuum jacketed vessels are always made to order.  This means that every side arm can be positioned to suit your lab set up, and the appropriate taps and valves can be built in to the design.  The vessel can be shaped precisely – whether that means a tall thin vessel or a squat vessel – it will always be just what you need.  We can build in baffle systems for ultimate agitation, and can provide things like amber coating for light sensitive materials.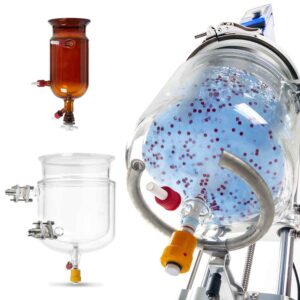 If you're scaling up, customise, don't compromise!
More than meets the eye with Asynt scientific glassware
In addition to lab reaction vessels, our scientific glassblowers are also responsible for the manufacture of our CondenSyn waterless condensers.  This Registered Community Protected Design provides outstanding performance without tap water thanks to it's large "rolling" surface area.  Manufactured in the UK by hand, our team of glassblowers ensure that every single one is perfect for you.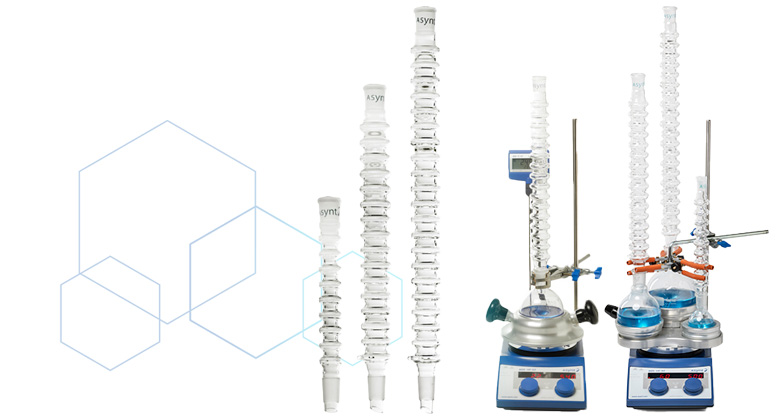 Looking for scientific glassware repair?
Is your favourite reactor vessel being consigned to the bin?  We can't save EVERY vessel but our experts can often repair broken side arms and necks, and even rebuild cracked vessels.  Take some photos of your damaged glassware and send them over to us for evaluation and if it can be saved, we'll let you know!



Follow us on Twitter or Instagram to see more photos and videos of our glassblowing works.
Let's talk it through!
If you'd like to chat with us about your scientific glassware requirements just give us a call on +44 (0)1638 781709, email on [email protected], book an online one2one at your convenience, or click on the live chat box at the bottom right corner of your screen.  We can't wait to speak with you!