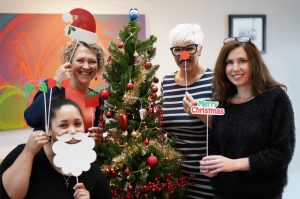 Our admin team would like to take this opportunity to thank you for your calls and emails, and your orders received throughout the year, and wish you Happy Holidays!
Hannah, Pearl, Kirsty and Louisa (pictured left to right) are always on hand to help with any administration or accounts enquiries you may have and will always do anything they can to assist you!
We don't go wild with Christmas parties here at Asynt but we do like to indulge in some great food and just try and spend some time together as a whole.   Our sales team have had an incredibly busy year – between developing exciting new products such as the very popular new DrySyn OCTO and the new ReactoMate Quantum amongst other things – and spending time with you, our amazing customers, to better understand your needs it's really been non-stop!
So as 2017 draws to a close we thank you for your loyalty and support, wish you very happy holidays, and look forward to a happy new year!