Here in the UK the lives of many people are affected by dementia, with 850,000 sufferers along with their loved ones and those involved within the care-system all feeling the effects of this devastating disease. And that is exactly what it is – a disease. Unfortunately it is still a common misconception that dementia is a natural part of growing-old, rather than a result of the brain being physically attacked until it is no longer capable of functioning properly.
That is where the charity Alzheimer's Research UK (ARUK) step-in. They believe that dementia can and will be defeated with the right medical research, with their mission being to find new treatments for all dementias; not just Alzheimer's. Unfortunately, funding for this vital work is still desperately needed – something that the new president of ARUK, former PM David Cameron, is keen to address. Speaking on a visit to the charities Cambridge Drug Discovery Institute last month Mr. Cameron was keen to stress that "dementia is not inevitable and research is our greatest weapon against it".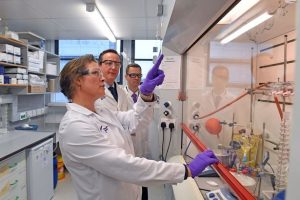 Here at Asynt we are proud to be working alongside scientists at the Cambridge Drug Discovery Institute, providing the necessary equipment to aide their ground-breaking research (you may have spotted David getting to grips with a CondenSyn in the photo above) as well as sponsoring their Head of Chemistry Dr. Steve Andrews on his own personal fundraising attempts! With our support, and the support of others, we are sure that ARUK will beat dementia.
For more information on the great work being carried out at ARUK please visit their website:
http://cambridge-ddi.alzheimersresearchuk.org/
To find out more about Steve's gruelling mission to raise some extra funding then take a look at his JustGiving page:
https://www.justgiving.com/fundraising/ARUKchallenges