If you're carrying out reactions under pressurised conditions in your laboratory, at the end of the day your safety is your responsibility.  Yes, your department ordered a fabulous new pressure reactor that you've been itching to get your hands on – but how does the specification meet the needs of your chemistry?  Might someone have modified the setup?  Maybe someone dropped it and bent an inlet/outlet valve?  Whether you're working with a small single cell pressure reactor or a more complex multi-cell pressure reactor system it is essential to put user safety first and follow some simple steps for pressure safety in your laboratory.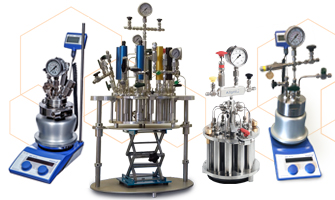 Laboratory safety isn't just about you though.  Not taking your time and preparing your laboratory equipment and set up can be disastrous; you may encounter a relatively small problem but when working under pressure, small problems can escalate incredibly quickly.  At the end of the day, you're responsible for you – but you're also responsible for your impact on those in your general environs.
The 10 simple steps for pressure safety that we've included below should never replace any existing guidance in your laboratory, nor common sense, but offer some key points to check before you put yourself under unnecessary pressure:
Refer to existing in-house guidance: This would include sources such as chemical laboratory safety signs posted locally, but users should ensure they are aware of all current and applicable laboratory safety rules.  Are there any particular safety precautions in your pharma laboratory that you need to refresh yourself on? Don't assume that nothing has changed.
Construction limitations: What metal is the pressure reactor manufactured from?  Is this chemically resistant enough to cope with anything you'll be using in your reaction?
Links in the structure:  Don't forget to ensure that the o-ring on the vessel and any joints where further apparatus is connected to the head are all sound.  You should also verify if any o-ring is made of a suitable material for your work.

Vessel capacity: One of the most frequently overlooked hazards of working with pressure reactors is caused by operators overfilling the vessel.  It must never be filled to more than three quarters of the free space, and in some situations, this must be reduced even further.  Remember that when a liquid is heated in a closed vessel, if there is insufficient space to accommodate the expanded volume, dangerous pressures can suddenly develop.  This is particularly true of water and water solutions, so users must be aware that these can increase to as much as three times their original volume when heated to the critical point (374 °C).  At temperatures up to 200 °C the increase in volume is relatively small but after this it expands dramatically.
Temperature and pressure rating: Users must check that the vessel has been tested and rated suitable for use at the intended temperature and pressure required to carry out their reaction.  If the rating is insufficient, the work must not be carried out.  Users should also take care to check if any residual pressure remains in the vessel prior to opening.  One possible solution to this common problem can be found in the novel PressureSyn reactor which incorporates a unique locking collar which can only be opened with a single key that forms part of the vessel head.  The vessel simply cannot be opened while any pressure remains.

Maintenance: No matter which scientist, or team, technically owns the laboratory pressure reactor, the final responsibility remains with whomever is intending to use the apparatus to ensure that it has been suitably maintained to allow safe operation.  Sorry but that means you!  Service records should be accessible and up to date, and users should examine the equipment themselves to look for issues such as erosion of o-rings, damage to fittings on the vessel head which could cause leakage, and obvious wear and tear.  If the user has any concerns about the state of the pressure reactor, then it must not be used until a suitably qualified engineer has carried out testing and certifying that it is safe to proceed.
By-products and loss of control: Have you identified what by-products will be produced as a result of your reaction, and what their behaviour will be? Have you considered under what circumstances the reaction might become uncontrollable?  By anticipating such issues the user can seek to avoid them, and make plans to control the situation.
Scale-up: When working with particularly hazardous reactants – especially those which you are less familiar with, users should start with small volumes and increase only once they have established a safe path to do so.  Are you 100% sure you've checked for any likely or possible risks for your intended process?
External safety: Have you thought carefully about the physical location of where you're setting up your reaction?  Many pressure reactors are small enough for use on any laboratory benchtop and are therefore easily moved.  The space should be well ventilated, and ideally either close to a fume hood or exhaust fan so that any gases released can be discharged safely.  There should never be any naked flames in the vicinity of the pressure reactor.
All Asynt pressure reactors feature a burst disk – an integral safety feature which means that should the pressure rise beyond what is safe, it can be safely discharged.  However, it is advisable to use ear protection as this discharge, should it occur, can be at a significant volume.  Users should note that certain explosive reactions can take place at such speed that the explosion may damage the vessel before the burst disk can release the pressure.  The best protection against this is to operate your pressure reactor behind a suitable screen, or in a specialised cubicle.
Reality check: When working with pressure it's advisable to take a moment and run a risk assessment.  Whether this is required as part of your record keeping, or purely as a tool for self-preservation, it is always a good idea.  Have you got all your PPE (personal protective equipment) on properly?
Let's be honest – we all get tired, distracted, hungry (or even hangry!), and a bit caught up with our thoughts so the short period of time it would take to consider the simple steps above could make all the difference in the safe execution of your pressurised reaction.
I hope that you've found these 10 simple steps for pressure safety in your laboratory useful but if you'd like any further guidance please don't hesitate to reach out to our experts.
You can speak with us now via the LIVE CHAT box at the bottom right of your screen, email via [email protected] or telephone +44 (0)1638 781 709.  Alternatively please complete your details in the short form below.
If you'd like more information about the wide range of turnkey and bespoke pressure reactors that Asynt offers, please click to view here on our website: www.asynt.com/products/pressure-reactors/