DrySyn Scholar Reflux Package
The DrySyn Scholar reflux package deal is ideal for those wishing to carry out single position reflux reactions in round bottom flasks up to 250 mL.
The DrySyn Scholar kit is comprised of a base to suit 250 mL RBF, and an additional insert to suit 100 mL RBF.  The base comes with strong, heat resistant handles for safe lifting.
Also included in this kit is the CondenSyn waterless air condenser in the 350 mm model.  Choose from any standard B fitting connection to suit your glassware.
Package Deal 3 – Part Number:  ASY-OS-103
The DrySyn Scholar Reflux Package:
DrySyn Scholar Kit (including 250 mL base and 100 mL insert)
1 x CondenSyn 350 mm waterless air condenser with any standard B fitting
Only £540 - saving £95 off RRP. (subject to carriage & tax) - Offer available from 1st January to 30th June 2023. Please contact us for further information.
UK / Europe / Global Delivery
Developed in collaboration with our clients / Bespoke design service
Committed to developing sustainable & practical improvements for scientists worldwide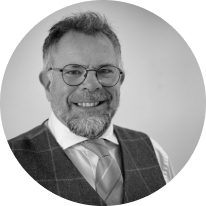 Asynt's unique range of innovative and sustainable products/services are developed by chemists for chemists - to make your lab life easier.
Martyn Fordham, MD
Customers also purchased