Safety Heat Sticker
We are keen for all laboratories to work in the safest way possible.  Small changes to our practices can have a large impact.
The DrySyn range of heating and cooling blocks will rapidly heat and takes some time to cool after you have finished working with it so in addition to our heat resistant handles, we offer a Safety Heat Sticker.
The sticker changes its colour from black (it is this colour when the heating block is at room temperature) to a bright red (when the DrySyn block reaches a temperature over 50 degrees C).  By sticking this to the front of your heating block you can easily see when it becomes safe to touch.  Although we are instinctively drawn to the handles, it is a good safety measure to take.
The labels are suited to reaction temperatures up to 150oC.
Changes colour at 50 oC
Suited to reactions up to 150 oC
UK / Europe / Global Delivery
Developed in collaboration with our clients / Bespoke design service
Committed to developing sustainable & practical improvements for scientists worldwide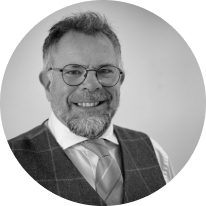 Asynt's unique range of innovative and sustainable products/services are developed by chemists for chemists - to make your lab life easier.
Martyn Fordham, MD
Customers also purchased