Julabo MAGIO Series Heating Circulators
The Julabo MAGIO range of heating circulators feature professional technology for the most demanding applications. The wide range of models provide a flexible solution for any application.
The systems have been designed to provide precise temperature control to external applications. However samples can also be temperature-controlled inside the high-quality insulated, closed bath tank.
All MAGIO models have an extremely powerful pressure / suction pump with performance values of 0.92 and -0.4 bar, thus fulfilling the highest demands for temperature control of external applications. The pump is continuously adjustable, making it perfect for adjustment to pressure or volume-sensitive external applications.
We offer a comprehensive range of accessories to adapt the MAGIO heating circulators to your individual application (racks, tubing, adapters, and more).
Working temperature range from +20 °C to +300 °C
Models for internal and external applications from 3 to 26 litres
Ideal for demanding external applications
Simple control of complex applications
Continuously adjustable, extremely powerful pressure / suction pump
Large colour TFT touch display, multi-lingual user interface
Stainless steel parts in contact with the medium
Flow rate 16 … 31 l / min, pressure 0.24 … 0.92 bar, suction 0.03 … 0.4 bar
Integrated programmer
External Pt100 sensor connection
USB interface
RS232 interface
Ethernet interface
Analog interfaces (accessories)
Classification III according to DIN 12876-1
High-quality thermal insulation of the bath tanks
Built-in drain tap for easy and safe drainage
UK / Europe / Global Delivery
Developed in collaboration with our clients / Bespoke design service
Committed to developing sustainable & practical improvements for scientists worldwide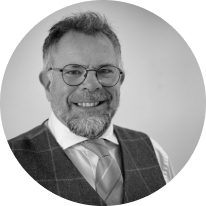 Asynt's unique range of innovative and sustainable products/services are developed by chemists for chemists - to make your lab life easier.
Martyn Fordham, MD
Customers also purchased