IKA Dry Ice Rotary Evaporator Range
IKA rotary evaporators offer excellent performance and reliability.  With a wide range of systems there's certainly a model to suit your chemistry.
For those requiring the use of dry ice you can choose between the RV 10 Digital, RV 8 and RV 3 which are all available with dry ice condensers.  Individual datasheets are available to view on the "Download" tab but please contact us to discuss your requirements!
RV 10 Digital With Dry Ice Condenser, Coated Glassware

Heating bath with adjustable safety circuit, "stand alone" operation possible, pivoting safety hood as accessory
Safe and simple operation through ergonomically shaped operator unit in the front area
Motorised lift (stroke 140 mm) with "safety stop" function, if the power cuts out the evaporator piston is automatically lifted out of the heating bath.
Adjustable end position recognition to protect the glass from breaking
Speed range from 20 to 270 rpm
Smooth start from 100 rpm
Digital speed display
Moves right and left in interval operation for the drying process
Timer function for time lapse controls
Water-oil heating bath with integrated carry handles with safe handling
Heats up quickly because of optimised bath volumes
Cooling surface 1,200 cm²
Push-off mechanism to loosen tightly fitting pistons
Digital water – oil heating bath with integrated carry handles
Temperature control of the heating bath by a micro controller
Digital temperature display
Infrared interface for data transfer from the heating bath to the drive unit
RS 232 interface for PC remote operation with labworldsoft
Automatic operation with labworldsoft
Suitable for DIN EN 12697-3 (Asphalt test for hot asphalt)

RV 8 with Dry Ice Condenser, Coated Glassware

Manual lift with integrated safety "lift-out-function"
New clamp mechanism
Water/oil heating bath with integrated ergonomic carrying handles
Key-button with locking function for the heating bath temperature
Speed range 5 – 300 rpm
Single-hand operation; ambidextrous design
Adjustable immersion angle
Additional user safety through reduced 24 V power requirements within the unit
Compatible with the complete range of IKA RV 10 glassware

RV 3 with Dry Ice Condenser, Coated Glassware

New: 4 liter heating bath
integrated safety lift-out function in case of power failure
water heating bath with carrying handles
locking button for fixing heating bath temperature
locking mechanism: red indicator shows unlocked position of the vapour tube
flask clamping mechanism with integrated push-off function for easy exchange of evaporation flasks
manual lift for precise positioning of the glassware
adjustable immersion angle
single-handed manual lift handling, suitable for left and tight-handed operators
speed range: 5 – 300 min-1
low device voltage (24V) ensures user safety
compatible with the entire range of IKA RV 10 glassware
UK / Europe / Global Delivery
Developed in collaboration with our clients / Bespoke design service
Committed to developing sustainable & practical improvements for scientists worldwide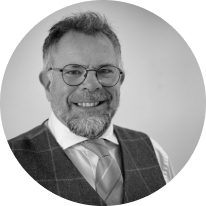 Asynt's unique range of innovative and sustainable products/services are developed by chemists for chemists - to make your lab life easier.
Martyn Fordham, MD
Customers also purchased