fReactor Pressure Relief Kit
Available as an accessory for the fReactor Classic or fReactor MAXI kits.
The PRV assembly uses a similar (higher pressure) BPR cartridge to those available in our accessories kits, but instead of connecting it so that the fluid flows through it, it is supplied with a t-piece so that the fluid flows past it and it releases if there is an over-pressurisation within the system.
ADS22-PRV(250) fReactor 250 psi Pressure Relief Kit (PEEK): Pressure relief kit for PEEK fReactors (Classic or MAXI).
This PRV kit is provided with tube fittings so this should be assembled as follows:
The BPR should be screwed straight onto the T-piece with the arrow pointing in the direction you would want it to vent.  We recommend connecting tubing to this vent with it directed towards a catch-pot of some kind.
For further details on use of the fReactor with pressure, please visit our dedicated website: https://freactor.com/learning_PessureBatch.html
UK / Europe / Global Delivery
Developed in collaboration with our clients / Bespoke design service
Committed to developing sustainable & practical improvements for scientists worldwide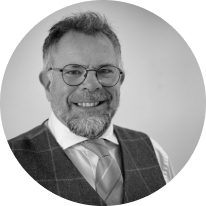 Asynt's unique range of innovative and sustainable products/services are developed by chemists for chemists - to make your lab life easier.
Martyn Fordham, MD
Customers also purchased