100 L PLUS PILOT Reactor
The perfect solution to your process chemistry needs, the PILOT PLUS range covers vessels sizes from 50 L up to 100 L.
Asynt can offer a complete reactor system incorporated into a unique open air, auto-centre framework with a wide range of accessories and customisation available to suit your kilo lab needs.
ATEX version available.
The 100 L PLUS PILOT includes:
n°1 DISMOUNTABLE JACKETED VESSEL DN450/400 100L, DISCHARGE DN50
n°1 GLASS/PTFE VALVE DN50 WITH NO DEAD VOLUME
n°1 COVER DN300 7 NOZZLES WITH:
– CENTRAL DN25 FOR STIRRING,
– DN80 PTFE NOZZLE FOR SOLIDS,
– DN40 WITH GLASS THERMOMETER POCKET FOR PT100,
– DN40 WITH WELL FOR PH,
– DN40 FREE NOZZLE
– DN25 WITH DIP PIPE AND ADAPTER FOR LIQUIDS,
– DN50 FOR VAPOURS
n°1 BOROSILICATE GLASS 3.3 REDUCED BEND DN100/50
n°1 REFLUX SEPARATOR DN100
n°1 GLASS THERMOMETER POCKET FOR PT100
n°1 GLASS BEND 90° DN15
n°2 5L GRADUATED FEED AND RECEIVING VESSEL
n°1 HORIZONTAL COIL HEAT EXCHANGER 1,5MQ INC5° DN80
n°1 RUPTURE DISK GRAPHITE/PFA DN50
n°1 HIGH TORQUE-HIGH SPEED OVERHEAD STIRRER
A SPINDLE MOTOR
B LANTERN WITH MECHANICAL SEAL GRAPHITE/PTFE
C STAINLESS STEEL STIRRING SHAFT/PTFE COATED
n°1 STAINLESS STEEL FRAME FOR REACTOR WITH COVER DN300
UK / Europe / Global Delivery
Developed in collaboration with our clients / Bespoke design service
Committed to developing sustainable & practical improvements for scientists worldwide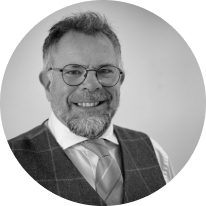 Asynt's unique range of innovative and sustainable products/services are developed by chemists for chemists - to make your lab life easier.
Martyn Fordham, MD
Customers also purchased