Asynt has formed a partnership with Asahi Glassplant (AG!) to supply their range of high performance reaction vessels alongside, and incorporated with, its popular ReactoMate Controlled Lab Reactors.
Having visited the AG! production facility in Japan – Asynt Managing Director (Martyn Fordham commented "I was greatly impressed by the AG! glassblowing capabilities which is technically beyond what I have witnessed anywhere in the last 30 years". He added "At Asynt our aim is always to offer the highest specification and best performing products, so consequently the AG! Glass reaction vessels fit perfectly in our portfolio. I believe that the wider chemistry community will benefit considerably from the capabilities of these high specification vessels compared to standard jacketed reactor vessels."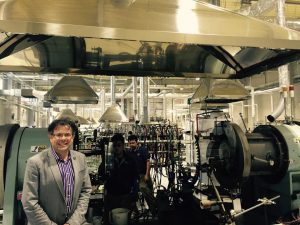 By using resized glass – AG! can produce reaction vessels with a unique thinner inner jacket wall that increases heat transfer rates but without compromising on the strength or safety aspects of the vessel. A proprietary AG! "ring baffle" fluid jacket design option ensures that the fluid path in reactor vessels is even and removes the risk of hot spots. More importantly, when combined with the thinner reactor jacket, this innovation gives a significant improvement in heating and cooling performance. All AG! reaction vessels include an easily removable zero dead space drain valve assembly even on smaller vessels. As an option – high pressure AG! reactor vessels with performance up to 12 bar pressure are available.
The addition of the AG! reactor vessel range extends the scale of reactors available from Asynt up to 160 L, or up to 60 L with an insulating vacuum jacket.
To download a PDF copy of this press release CLICK HERE
Contact us if you would like more information.