Asynt has supplied and installed a ReactoMate laboratory reactor system within the Department of Chemical Engineering at Imperial College London. Comprising of bespoke glass reactor vessel, ReactoMate Datum support stand and DrySyn heating block system, the reactor setup will help further research into the fluid dynamics of fine particulate materials.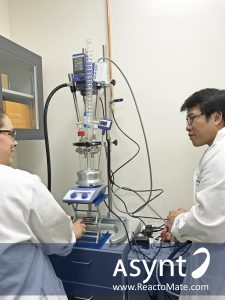 The Department of Chemical Engineering at Imperial College London (UK) is one of the world's leading institutions in both the teaching and research of chemical engineering and technology.  Based within the Chemical Engineering department, the Matar Fluid Group, led by Professor Omar K Matar, focuses on interfacial fluid mechanics with an emphasis on modelling, simulation and experimental data collection. A key requirement for the custom ReactoMate system involved the ability to track and image the particles present within solution. For this reason, the use of an oil heating jacket, which is commonly used for the thermoregulation of reactor vessels at this scale, was not possible due to the distortion created by the oil layer.
Drawing upon over 30 years expertise in glassware design and manufacture – Asynt developed an application-optimised heating system using a special reactor vessel and custom DrySyn aluminium heating block. The low-profile of the DrySyn block maintains visibility into the vessel throughout the reaction period and the use of a hotplate stirrer mounted upon an Asynt lab-jack enables quick removal of the heating source as and when required. Also included within the ReactoMate setup was a custom-made glass lid with specific ports designed to accommodate a PTFE stirring shaft, thermocouple for accurate temperature control of the solution, CondenSyn waterless condenser and other probes necessary for data capture.
Ryan Lee, a researcher within the Matar Fluids Group commented ""As well as the requirement for some specific technical features it was key that the reactor system was installed to a very strict deadline. Not only did Asynt have the requisite design and engineering skills to create and deliver our custom reactor system on time, but they also provided excellent technical support throughout. Our sponsors are very happy with the setup – all in all a great service and product"
For further information on the design and manufacture of customised labware to fully meet your application needs please visit http://www.asyntise.com or contact Asynt on +44-1638-781709 / [email protected].
You can download a PDF of the full PR here: Bespoke Reactor System for Chemical Engineering Research
Zugeschnittenes Reaktorsystem für die Forschung in der Verfahrenstechnik
Un système de réacteur personnalisé pour un institut de recherche dans le génie chimique
Sistema de reactor personalizado para investigaciones de ingeniería química