We are pleased to announce that Asynt will be attending and exhibiting at the Royal Society of Chemistry Younger Members Symposium which is being held at the University of Birmingham on June 24th 2014.
This is a one day event planned by the Royal Society of Chemistry Younger Members Network.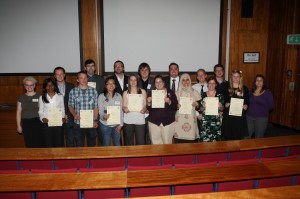 The RSC and the University of Birmingham have recognised the importance of this career-development event by providing the keynote speakers for the day: Prof. Lesley Yellowlees (President of the Royal Society of Chemistry) and Jamie Gallagher (Public Engagement Officer at the University of Glasgow).
(Image shows the prize winners from 2012)
There will be four parallel sessions held over a full day, covering all aspects of chemistry: Education & Outreach, Organic & Biochemistry, Physical & Analytical and Inorganic & Materials. Each session will have two invited speakers representing the cream of young talent from industry and academia. Invited speakers will showcase not only their excellent research, but also their career progression. There will also be several oral presentation opportunities and considerable poster space for each session.
You can register on the Royal Society of Chemistry website HERE.
We will have a wide range of products available for you to examine up close on the day, and our chemists are always glad to offer assistance with any queries you may have so do come and say hello!