Asynt prides itself on its international presence within the chemistry sector and last week Dr Kerry Elgie visited our Swedish distributors, Ninolab, for a three day exhibiton tour around Stockholm and Uppsala.
Ninolab is a privately owned company, established in 1965, who supply and service laboratory equipment into the Swedish and Danish laboratories. Their customers are mainly found in the pharmaceutical industry, research institutions, universities, hospitals and biotech industry, so have a very synagistic alignment with Asynt.
Kerry and Peter Andersson, the Asynt specialsit at Ninolab, had a fabulous time visiting the Universities of Stockholm and Uppsala Chemistry Departments with the DrySyn oil free heating blocks and CondenSyn, waterless condensers.
The way to entice and win the heart of a chemist is through the love of a good cinnamon bun though!!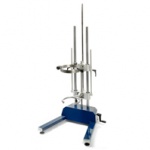 Asynt just wouldn't be the same without our distributor network who kindly represent our products on an international platform, for this we're truly grateful. Massive thanks to Peter Andersson and the Ninolab team for making Kerry feel so welcome in your company and for working so hard representing Asynt in Sweden. We couldn't do this without you. Many thanks!