We very much hope that you will join us in welcoming a new face to our team: Dr Ffion Abraham!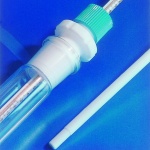 Working alongside our existing sales team, it was important to us that this completely new role of Sales Support Scientist could be taken up by someone with the essential knowledge, skills and background to assist our customers with their issues in the laboratory.  The lovely Ffion graduated with her doctorate from Durham University in 2014, from the group of Professor Graham Sandford. Sponsored by SONY Deutschland, her research focused on the synthesis of novel, highly-fluorinated compounds for optoelectronic applications.
More details can be found at http://etheses.dur.ac.uk/10622/ if you are interested in reading more!
Following her graduation Ffion remained in the North-East of England working for Johnson Matthey Process Technology Chemicals, based in Teesside. During her time as a process chemist Ffion was responsible for working on numerous research projects developing current and next-generation technologies, as well as being involved in a variety of health and safety initiatives. After two years at JMPT Chemicals Ffion has decided to hang-up her lab coat and move down south to join the Asynt team. Working closely alongside the current sales team, Ffion will be responsible for maintaining relationships with our current UK customers as well as promoting Asynt's presence within the UK market.
Outside of work, she is a keen football and cricket fan, having played both sports throughout her time at University. Originally from Liverpool, she is an avid Evertonian and tries to get back to Goodison Park as often as possible to support her beloved Toffee Men.
We hope that Ffion doesn't need to escape us too often though and enjoys being part of the Asynt team as much as the rest of us do!
If you'd like to contact Ffion please email [email protected] .