We reached the end of summer here in the UK at Asynt HQ and there's a sense that she didn't want to linger at the end of her shift!  Hopefully we have some news to brighten your day though with the release of our NEW Photoreactor and a whole load more in the Asynt September 2022 newsletter.  Please don't forget that we're always interested in hearing from you if you feel that there's something missing though!  Do you receive your own copy direct to your inbox? If not, read on and find out how easy it is to have the latest chemistry news delivered each month.
Please remember, if there's something you'd like to see included in the next monthly Asynt newsletter please reach out to us for a chat about it.  We would be so pleased to hear from you – you can find our contact details here: https://www.asynt.com/contact-us/ or get in touch via the Live Chat box at the bottom right of your screen.
Here's what we have in store for you in the Asynt September 2022 newsletter:
Shine a light on NEW photochemistry tech: introducing the LightSyn Lighthouse featuring our breakthrough new technology
Sustainable labs – the new reality:  making financial sense & improving life in the lab
Summer treats: grab our summer lab deals before they go!
Instrucan Scientific at QOMSBOC 2022:  come and say hi – there's a lot to see!
How to select the right Impeller: Our straight-forward guide will help you get the results you need
Independent review on ultra safe pressure tool: Dr Marco Conte (Sheffield University, UK) shares his thoughts on this novel apparatus
Take a few minutes out of your hectic day to read this months' edition online now – no registration required!  CLICK HERE (or image below)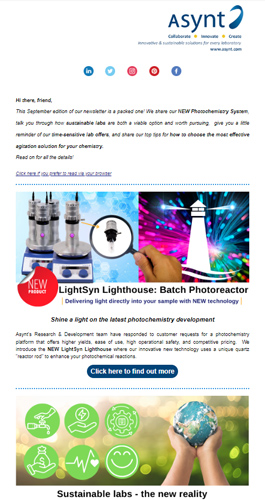 Don't miss the next edition of the Asynt newsletter
We really hope you've enjoyed this months edition of our chemistry newsletter but if you'd like next months copy delivered direct to your inbox simply click the link below – it literally takes just a few seconds to register… we will never spam you or share your details with anyone else.
Don't miss out!  Register here before you go: www.asynt.com/newsletter/