We're almost half way through the first month of the year already so it's time for the Asynt January 2023 newsletter.  This is a packed edition with loads to interest you on your coffee break so we hope that you'll sit back and take a look!
If there's something you'd like to see included in our newsletter in the future then please do get in touch.  Read on to find out how to receive your own copy of the Asynt monthly newsletter direct to your inbox too!
If you'd like to speak with us about an idea for a feature we would be so pleased to hear from you – you can find our contact details here: https://www.asynt.com/contact-us/ or get in touch via the Live Chat box at the bottom right of your screen.
Here are the topics for the Asynt January 2023 newsletter:
Colgate University (USA) use kinetic data from their Multicell pressure reactor: find out more about their published paper, "The Key Role of the Latent N-H Group in Milstein's Catalyst for Ester Hydrogenation"
Bring your lab to life: Safe & sustainable reflux packages NEW for 2023
Why add an LED photoreactor to your Flow setup?:  We talk you through the benefits
MD1C VARIO+: With better than 5mar vacuum control & extended 3 year warranty, currently with £460 off RRP!
Tell us what you want:  (What you really, really want…)
So whether you're on a green tea kick or boosting your caffeine intake this month, grab a drink & take a few minutes out of your hectic day to read this months' edition online now – no registration required!  CLICK HERE (or image below)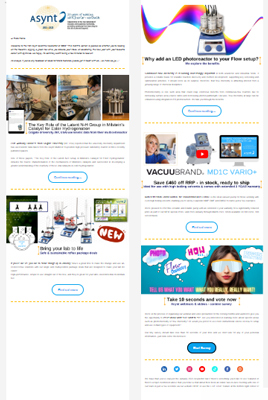 Don't miss the next edition of the Asynt chemistry newsletter
We really hope you've enjoyed this months edition of our chemistry newsletter but if you'd like next months copy delivered direct to your inbox simply click the link below – it literally takes just a few seconds to register… we will never spam you or share your details with anyone else.
Don't miss out!  Register here before you go: www.asynt.com/newsletter/
SEE THE LAST TWO NEWSLETTERS BELOW: