CondenSyn and Distillation Adapter Evaluation:
We were thrilled to receive the following CondenSyn and Distillation Adapter evaluation from UK sixth form, Thomas Rotherham College, as we believe that students will be best prepared for future careers in science by learning to use the same tools that are the standard for industry and academia.  A centre of excellence for over 500 years, the college currently has over 1500 students aged from sixteen onwards, and pride themselves on preparing them effectively for their progression on to university or employment.
"As a college, we offer both A Level chemistry and a level 3 BTEC in applied science, both of which have modules that teach students about reflux and distillation. We understand the importance of providing our students with the best possible learning experience and access to the most current equipment. This is why, when we realised that our Leibig condensers were no longer compliant with the Water Supply Regulations, we saw it as the ideal opportunity to not only update our equipment but also to consider our water sustainability.

After researching various options, we decided to purchase the CondenSyn condenser and the Distillation Adaptor. This condenser has not only allowed us to comply with the regulations, but it has also enabled us to significantly reduce our water usage in science. The CondenSyn's simple set-up is ideal for introducing students to reflux and distillation. It eliminates the risk of flooding, connecting the water supply to the wrong inlet on the condenser, or forgetting to start the water flow, making it a safer option for our students and giving us more flexibility on which lab we use.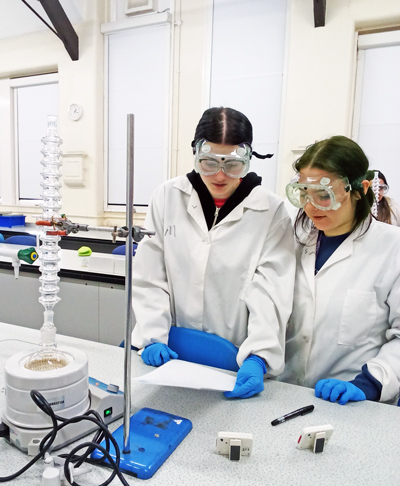 The students in the photo were part of the Level 3 BTEC in applied science. They were looking at Oxidation of alcohols to carboxylic acids using dichromate(VI), in this instance a primary alcohol (ethanol) is oxidised to a carboxylic acid (ethanoic acid) using an acidified sodium dichromate(VI) solution. The students went on to conduct 3 qualitative tests of the distillate; identifying the odour of the ethanoic acid, adding universal indicator observing a colour change to confirm the presence of an acid, and also added sodium carbonate to observe effervescence.
In addition to providing our students with an improved learning experience, using the CondenSyn will have a positive impact on our local community. By reducing our water usage, we are not only saving money on our water bills, but we are reducing the strain on local reservoirs and water resources. This is particularly important in regions where water security is a major concern.

We are proud to say that we are one of the first VI form colleges in the country to use the CondenSyn. We believe that this equipment will not only provide our students with an improved learning experience but inspire them to achieve not only for today, but into the future.  With many universities now using the CondenSyn, we know that this exposure for our learners allows us to embed what we stand for; 'A tradition of achievement – a future of opportunity'."
Luke Hanson, Lead Science Technician, Thomas Rotherham College (UK)
Reference: ASY-EV-166

For further information on the college, please visit their website: https://www.trc.ac.uk/
To find out more about the CondenSyn range (including the unique distillation adapter) please click HERE.