Dr Ffion Abraham & Dr Arran Solomonsz worked to meet the requirements of the Department of Engineering at Imperial College, London, and supply a bespoke ReactoMate system with Datum support stand and custom-made glass pot vessel and DrySyn heating block system.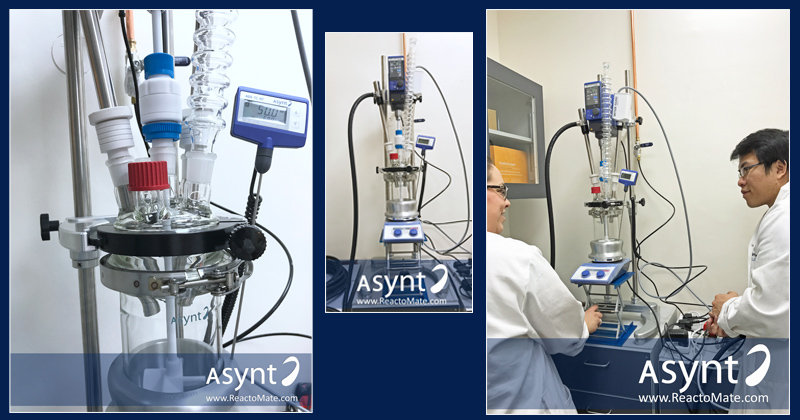 The vessel was designed to also include a custom-made glass lid with specific ports to  accommodate to accommodate the ParticleTrack™ and ParticleView™ probe technology from METTLER TOLEDO, PTFE stirring shaft and CondenSyn waterless condenser.
Standard options weren't suitable for this project
Unlike with a lot of laboratory reactors, the use of an oil heating jacket was unsuitable for this project and so a bespoke ReactoMate set up was devised with heating provided via an Asynt complete hotplate stirrer kit and custom DrySyn aluminium heating block.  The DrySyn block includes a temperature probe hole to allow for accurate temperature control, and the addition of an Asynt lab-jack provides a safe, simple and efficient method to remove the heat source from the reaction vessel when required.
Interested in discussing a bespoke solution for your own chemistry?
If you'd like to speak with one of our technical team to resolve ongoing issues in your lab, or start talking through a bespoke ReactoMate solution, simply complete and submit the short form below and we'll contact you as soon as possible.