Award-winning formulation and development lab – Here2Grow Cosmetics & Homecare Labs (Selby, UK) worked with the Asynt experts to specify a ReactoMate DATUM laboratory reaction vessel system in the development of a next generation clinical haircare product.
Here2Grow CEO, Dr Henry Brew, explained that:
"The formulation challenge posed by our customer (a tricology clinic) required us to prepare a hair care product which involved a specific mixing, heating, and processing regime. By using the ReactoMate DATUM we were able to not only improve the formulation process and meet the specifications of the new product in a repeatable and consistent manner, but also save our company time and money."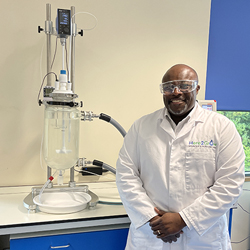 Reaction visibility was an important part of the purchasing criteria their reaction vessel system had to meet, and the all-round visibility with the ReactoMate DATUM is perfect for the physico-chemical reactions Here2Grow carry out.  These include gel formation, phase separation, emulsification, droplet formation and temperature change.
The Asynt team also sought to fully understand the level of temperature control required, specifying an appropriate system to meet those needs.
Dr Brew commented:
"Temperature control is critical to our projects. This may involve exposing specific compounds to different temperatures and capturing properties and physico-chemical reactions, or designing a manufacturing method for scale-up.
For our research programs we often require a temperature control system that can safely and consistently generate temperatures under 0°C and over 100°C. The state-of-the-art Julabo temperature control unit is fairly intuitive and can also be programmed for specific temperature profiles. The digital display also provides a great overview.
What happens after completion of the next generation clinical haircare product though?  By specifying a system that is compatible with different components and manufacturers, the Here2Grow scientists are able to continue using tools already in place in combination with their ReactoMate DATUM, as well as build upon the system as their needs change and grow.


For further information on Here2Grow please visit their website: https://here2grow.com/
To find out more about the ReactoMate DATUM system that is being used please visit our product page here: https://www.asynt.com/products/jacketed-lab-reactors/reactomate-datum-system/ or get in touch with one of our experts today.  You can reach us via [email protected], via the LIVE CHAT box at the bottom right of your screen, call us on +44 (0)1638 781709 or add your details to the form below and send it through so we can get back to you.