Dr Kerry Elgie worked with Dr Thomas Screen of UK based chemistry CRO, Apex Molecular Ltd, to provide a custom PTFE reactor to suit their specific requirements.  Supplied as a complete system, this was designed and manufactured in the UK to the highest possible standard.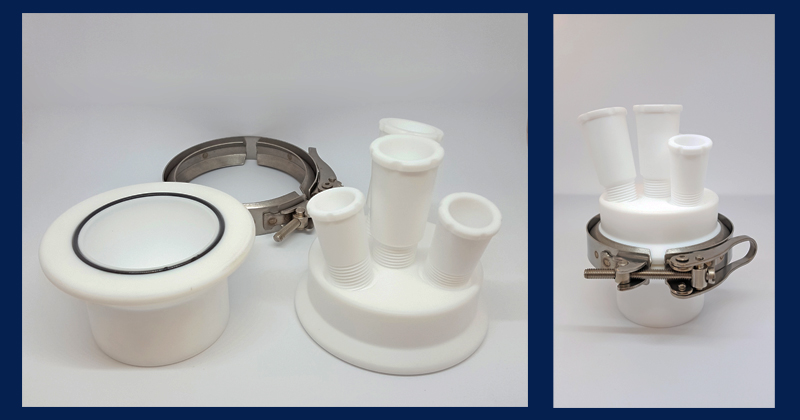 "As a contract research organisation, Apex Molecular are driven by our customers' project requirements. This means we use our chemists' expertise to understand and carry out a wide range of different and often challenging chemistry.

Carrying out our chemistry safely is also of paramount importance.

In responding to a project involving the small scale use of superacid fluoroantimonic acid at low temperatures, we recognised the need for specialist equipment to be able to handle this highly corrosive reagent. With glassware incompatible with fluoride acids, we turned to finding an affordable PTFE reactor for the approx. 50 ml scale reaction.

Having ordered lab equipment from Asynt regularly and previously discussed their bespoke design offering, we approached their team for a PTFE reactor suitable for our needs. They were quick to respond with an initial quote and technical drawings which we modified to match our requirements.

The all-PTFE reactor, including adaptors and stoppers was delivered on time and allowed us to carry out the chemistry safely and in a controlled system.

Having access to specialist engineering and equipment design services continues to be important for us operating in a constantly changing chemistry market."

Dr Thomas Screen, Apex Molecular Ltd
Apex Molecular is a UK based chemistry CRO providing specialist chemistry services, including pre-clinical medicinal chemistry synthesis services to the pharmaceutical and biotechnology (life sciences) sector.
W: https://apexmolecular.com
T: @apexmolecular
LinkedIn: https://www.linkedin.com/company/apexmolecular
If you'd like to learn more about custom PTFE apparatus for your lab then please read on here: https://www.asynt.com/product/ptfe-apparatus/ or contact us to discuss your requirements.