So much of what we do at Asynt is with the emphasis on making smart changes in the lab to lessen negative impact on the environment.  We've introduced key apparatus which is quite literally changing the way that chemists all over the world are working but we won't rest on our laurels!
Of course, we aren't the only ones working hard on environmental issues and the annual World Water Day gives us all an opportunity to focus on the worldwide water shortage that truly is a universal problem.


"Sustainable Development Goal 6 is crystal clear: water for all by 2030. By definition, this means leaving no one behind. But today, billions of people are still living without safe water – their households, schools, workplaces, farms and factories struggling to survive and thrive.

Marginalized groups – women, children, refugees, indigenous peoples, disabled people and many others – are often overlooked, and sometimes face discrimination, as they try to access and manage the safe water they need.

This World Water Day, 22nd March, is about tackling the water crisis by addressing the reasons why so many people are being left behind."
There is a huge amount of information on the event website so please do click through and find out more: https://www.worldwaterday.org/ you can see a basic factsheet in PDF format here though: WWD2019_factsheet_EN_vs4_29Jan2019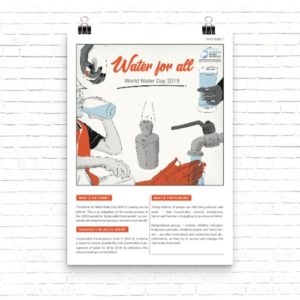 With resources online in a wide range of languages and in many formats we hope that you'll find something useful: https://www.worldwaterday.org
In the meantime, you can see further information on our efforts here on the Asynt website: https://www.asynt.com/about-us/sustainability/
If you have any questions for us, or any ideas you'd like to discuss, please do get in touch with our chemists via [email protected] – we would be so happy to hear from you!