Every teaching lab must have several essential pieces of equipment, and heating blocks are just one of them. Heating blocks are invaluable in a wide range of research applications, as they provide consistent and uniform heating for small vessels such as microcentrifuge tubes, test tubes and vials as well as round bottom flasks. Consistent temperatures are critical for the success of many experiments and the accuracy of results in biochemistry, chemistry and molecular biology. 
The DrySyn range of laboratory heating blocks is a crucial alternative to oil baths and heating mantles as it offers enhanced efficiency and safety measures for scientists worldwide. They are designed to work with round-bottom flasks plus tubes/vials, with heating and stirring via magnetic hotplate and stirrer bar. The range includes heating blocks in various configurations tailored to suit diverse scientific applications and research requisites. This blog post looks into the benefits of using DrySyn heating blocks in teaching laboratories.
Benefits of DrySyn Heating Blocks in Teaching Labs
There are a multitude of benefits when using heating blocks in teaching labs.  Key examples include precise temperature control and monitoring, excellent reaction visibility, quick and simple setup/reconfiguration, no contamination from heating oil, and results are consistent and repeatable.  In addition, there are significant benefits both to the user and the environment; no hazardous hot oil splashes and reduced chance of scalds and burns, no messy and costly oil disposal, a significant reduction in power usage, plus the lab will smell a lot nicer! Particularly in teaching labs, where users can be inexperienced, this reduction in hazards is especially relevant and gives confidence to those using the platform.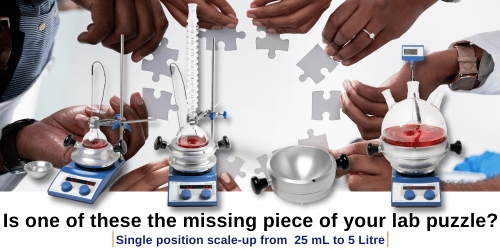 Compatibility
DrySyn heating blocks are compatible with much of the users existing laboratory glassware, such as condensers,, flasks, tubes and vials. They can be used with flasks from 5 mL to 5, 000 mL, making them convenient for various applications. This versatile platform enables quick and easy changes to the configuration when scaling up or down and is designed specifically around standardised glassware sizes to ensure compatibility worldwide.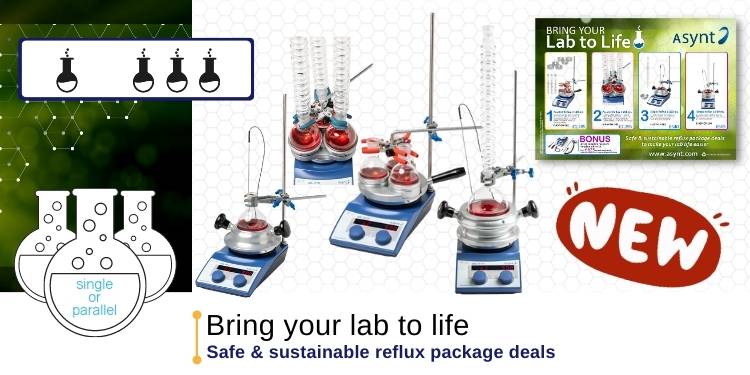 Compact
The compactness and portability of DrySyn heating blocks mean they can easily be moved around a laboratory and stored away when they are not needed. This makes it easy to share equipment among technicians and helps optimise space within a laboratory.
Interchangeable Blocks
The DrySyn range of heating blocks can be used with any magnetic hotplate and have a wide range of interchangeable inserts depending on the work being carried out. Some of these inserts are specifically designed to enable up to as many as 27 possible reactions to be carried out simultaneously on just one hotplate.  Each DrySyn base has a flat bottom, with removeable/repositionable pins to ensure correct fitment to your chosen hotplate.





Safety Features
Our heating blocks are a far safer alternative to oil baths and mantles; vessels remain clean and dry, no slips on spilt oil, no splashes causing burns, and every DrySyn base is supplied with integral heat-resistant safety lifting handles.  Users will instinctively reach for these, thus avoiding burns from touching hot surfaces.
Heating blocks reduce the risk of fire and other injuries and provide a more hygienic environment for scientists.
Temperature Control
Temperature control is provided via sockets in the base or inserts in your chosen DrySyn setup, where a temperature probe can be inserted.  This ensures accurate monitoring and control of your reaction parameters.
Uniform Heating and Stirring
Uniform heating is another important factor in conducting reliable and repeatable experiments. DrySyn is designed to ensure that samples are heated evenly and consistently, which helps to maintain the integrity of reactions that are temperature dependent.  Even for those reactions carried out in parallel on your hotplate, the design of the DrySyn means that every vessel is consistently heated and stirred, ensuring reliable results.
Where Can I Purchase Heating Blocks?
Heating blocks for your teaching laboratory can be purchased from Asynt, a company that provides unique and novel products for scientific research around the world, in addition to supplying other key brands in the field. Asynt's products are highly renowned because they are developed by chemists for chemists, resolving the issues that matter and making lab life easier.
DrySyn is made from the highest quality European aluminium, and is anodised to ensure chemical resistance. Manufactured in Britain within our own engineering facilities, DrySyn is precision engineered to ensure correct fitment and compatibility with your glassware, and is suitable for temperatures of 300 ºC.  In addition to the wide range of DrySyn available, we can also custom-design DrySyn to suit your own precise requirements.  
If you're looking for high-quality heating blocks for your lab – or teaching lab, Asynt and our respected worldwide network of distribution partners are the people to talk to! Contact us today for a quote or learn more about our heating block range.
Further reading:  5 Benefits of a Single Position Heating Block