We were talking at Asynt HQ recently about the introduction of the new GBP £1 coin launched in the UK this week and it's become apparent that there is a real merging of science and money behind this coin!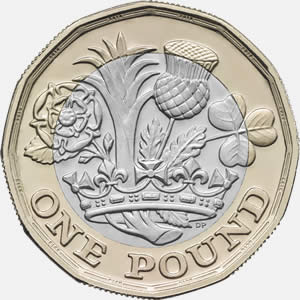 Now legal tender, according to the information available from the Royal Mint,"the final specification of the coin and method of introduction were decided after a ten week public consultation which looked at the physical and material characteristics of the coin, as well as the parameters for the transition."
There's a great video available on a special website from the Royal Mint which introduces us to the coin which you can see here: https://www.thenewpoundcoin.com/ but this new 12-sided coin is apparently deemed "the most secure coin in the world"!
In addition to the unusual dodecagon shape which makes it difficult to copy, the coin is made from a mixture of metals (the precise content of which is unconfirmed for security reasons) but has a gold-coloured outer ring of nickel and brass and a silver-coloured inner ring of nickel-plated alloy.  There is an image, similar to a hologram, which changes between a number 1 and a pound sign as the coin in turned (technology used on the new £2 coin too).
The science really comes into play with a secret security code that, according to the Daily Telegraph, exists on the top layer of metal on the surface of the coin, hidden on her Royal Highness' profile, and which includes a pigment which is invisible to the naked eye.  We are lead to believe that it can only be read when subjected to a specific frequency of ultraviolet light installed in the Royal Mint's forged coin detection machines.
It has emerged that the Royal Mint has patented "electro-plating" technology relating to the application of luminescent particles on metal.  According to patent experts quoted in the article, the technology ensures that the special particles actually form part of the alloy of the material forming this new coin.
It will be interesting to see how the counterfeiters handle this one!