NEW scientific blog series with Dr Mike Kenny
In our first entry of the Asynt "Behind the Flask" blog series Mike caught up with Dr Tlabo Leboho, a researcher at the University of Limpopo in South Africa, to find out more about their research into anti-tuberculosis agents and the people behind the flask*.
Mike: Hi Tlabo, thanks for taking the time out of the lab to chat with Asynt about the research going on within your group at the University of Limpopo!  I saw that the group recently published a paper in "Bioorganic & Medicinal Chemistry Letters" titled: Synthesis of novel quinoxaline-alkynyl derivatives and their anti-Mycobacterium tuberculosis activity.  Of course Tuberculosis (TB) is a serious health issue, both in South Africa and Globally, with 1.4 million deaths from the disease in 2019. For how long has the group been researching anti-tuberculosis agents and why have you personally chosen to focus on TB?
Tlabo: Hi Mike, it is always a pleasure to discuss research! The University of Limpopo started working on anti-tuberculosis agents in 2013.  Since joining the team approximately 5 years ago, I've been working alongside my collaborator, Winston Nxumalo (who has been with the university for about 8 years), in this critical field.
Increasing numbers of cases of multi-drug resistant TB (MDR-TB) and extensively-drug resistant TB (XDR-TD) are creating problems in the treatment and management of TB as they require longer treatment times and are sometimes not responsive to drugs that are currently available. The high incidences of MDR-TB and XDR-TB are particularly prevalent in developing and low-income countries, making this an extremely serious issue and one I knew I had to personally contribute to.

Mike: I can see that the paper has authors from both the Department of Chemistry and the Department of Biochemistry.  How important do you feel it is to take an interdisciplinary approach to research, particularly in relation to medicinal chemistry?
Tlabo: Collaborations with other departments are of paramount importance since chemists are not able to perform most of the biological assays required to determine the efficacy of the synthesised compounds. Biologists can determine the activity, toxicity, bioavailability and other pharmacological properties of the synthesised compounds. In the research described in the paper for example, we have been able to not only synthesise a range of novel quinoxaline-alkynyl derivatives but then also carry out in-vitro testing to investigate the biological activity of these compounds.
Mike: Fantastic! Although I no longer spend my days in a lab, as a medicinal chemist myself, I always found it highly motivating to almost see the fruits of your labour – synthesising novel compounds and then actually seeing them have an effect against a certain biological target is hugely rewarding. The paper mentions that compounds with a Nitro group were particularly efficacious. Does the group have any hypothesis as to the role that the Nitro group plays in the structure-activity relationship?
Tlabo: That's it exactly! The introduction of the Nitro group appears to enhance the activity of the synthesised compounds, and this has been observed on other studies of anti-tuberculosis agents too. One of the recently approved anti-TB drugs, Delamanid, contains a Nitro group which plays a significant role in the activity of the compound.
Mike: Is there any scope for the quinoxaline compounds outlined in the paper to be potential treatments for other diseases such as malaria? Does the group have any plans for anything like this?
 Tlabo: The quinoxalines have been tested against malaria and cancer, with promising anticancer results obtained. More work is currently being done to synthesise more derivatives, with the help of computational chemists, with improved activity against TB and cancer.
Gross pathology of lung tuberculosis, Robert Carswell
Good JM, Cooper S, Doane AS (1835). The Study of Medicine. Harper. 
p. 32. Archived from the original on 10 August 2016.
Mike: That's amazing news – I will look forward to reading future papers with the results of that work! Moving on to some more light-hearted questions now, what do you like best about working in a chemistry lab?
Tlabo: My favourite part of working in a chemistry lab is that I have a job where I contribute to the possibility of finding the next affordable drug for ailments such as TB and Malaria that are a thorn to the poor and developing countries of Africa and Asia!
Mike: I can imagine how rewarding that must be! What would you say to people who would like to get into research within South Africa?
Tlabo: It is fun, demanding and challenging in a good way. Students are very important for one to have a successful career in research and development. Secondary to students is funding for the research at hand, followed by collaboration. Yes, it is absolutely a lot of hard work, but it's well worth your efforts, and it's very rewarding!
Mike: Of course, I have to mention a little bit about Asynt… Shortly after we met at the ESOC conference in Vienna back in 2019 (pre-covid!) Your group started using the DrySyn heating blocks and waterless CondenSyn reflux condensers, how have you found them?
Tlabo: Yes, I have used both DrySyn heating blocks and the waterless condensers. The DrySyn heating block system removes the need for heating oil, which used to leave such a mess, while the waterless condensers save significant amounts of water – we use these whenever we carry out reactions that require refluxing.
Mike: That's great to hear Tlabo, I am pleased that they are getting lots of use! I have one more serious question for you… Where do you think the future of medicinal chemistry will take us?
Tlabo: Drug discovery has shifted away from designing drugs that target the ailment as a blanket to designing drugs that target specific enzymes that control certain functions of a particular pathogen. This is made possible through the use of computer-aided drug discovery.  I think that medicinal chemistry will be dominated by machine learning in the future, in the same way that computer-aided drug discovery is dominating now. Additionally, the use of biologics instead of synthetic organic compounds is also gaining momentum.
Mike: And finally, Tlabo… If we were in Polokwane / Limpopo for a day, what would you recommend that we do?
Tlabo: You can visit some interesting places within Polokwane. That includes Mall of the North for shopping experience and Meropa Casino and Entertainment World for leisure. The two places that I will recommend you visit are Polokwane Game Reserve and Polokwane Bird and Reptile Park!
Mike: Great, hopefully once Covid is fully under control and the restrictions are loosened we can head over to South Africa and visit! Thanks once again for taking the time to talk about your research in to anti-tuberculosis-agents and giving us an insight into what goes on Behind the Flask…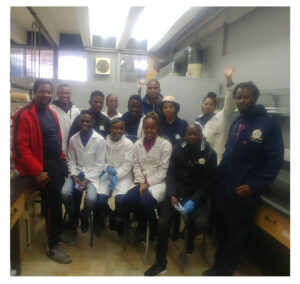 *Back Row (L-R): Jackson K Nkoana, Terrinne P Mokoena, Tebogo MC Ragedi

Middle Row (L-R): Lebogang F Mabatamela, Dareos M Rakgoale, Mitchelle M Tukakgomo, Lerato A Raphoko

Front Row (L-R): Winston Nxumalo, Redolf S Segodi, Rosinah M Sedibana, Khomotso J Mokganya,  David T Rokhotso, Tlabo C Leboho


Dr Mike Kenny: Mike achieved his doctorate in medicinal chemistry from the University of Bath in 2019, having joined Asynt a year earlier at the start of 2018. Mike loves to work with our customers to provide solutions that reduce the environmental impact of research and improve lab safety. Mike manages international sales throughout the South of the UK and South Africa. 
If you'd like to contact Mike, please email e[email protected], call +44 (0)1638 781709, book an online One2One, or use the LIVE CHAT box at the bottom right of your screen!