For a week in January, Asynt's Technical Sales Specialist Dr Mike Kenny and Fluorochem's Danielle Bradshaw joined forces to tour the South UK, visiting Bristol, Cardiff, Oxford and Reading universities. The tour provided Mike and Danielle a great opportunity to showcase Asynt and Fluorochem's latest innovations such as the fReactor and Doug Discovery, as well as meet with some of our fantastic customers who carry out their research on a daily basis using Asynt kit and Fluorochem chemicals! Asynt asked Mike to keep a diary of his week so that we could bring you a behind the scenes insight into the life of an Asynt Technical Sales Specialist…
MIKE: I have worked at Asynt for around 2 years now, joining straight after my PhD. I love getting to visit all of the different universities and companies in the UK, and learning more about what they get up to. Asynt and Fluorochem often join forces for exhibition tours as our offerings complement each other hugely and we all get on really well!
DANIELLE: I have worked for Fluorochem for just over 4 years, however I did take a break to have my daughter. During this time, I have noticed that there has been such a change in the company, all in a positive way. We are now recognised when exhibiting and there are a lot of comments such as "We love Fluorochem", which is always so great to hear. A number of years ago we started working on a new search platform, called Doug Discovery, which allows chemists to search using both the standard methods and a new "concept Search" method which allows customers to browse our products using structural and functional groups (you can see more HERE). The idea allows a chemist to browse more specifically across our catalogue of around 200,000 chemicals, saving time and possibly money. We have had a great response from those who know about the platform and hopefully the more people learn about it, the more people will use it.
Day 1: School of Chemistry, Bristol University.
Bristol's chemistry department is certainly impressive, and the synthesis labs look out across the city through floor to ceiling windows – not a bad view when you are running chromatography columns on a Friday afternoon!! Danielle and I set ourselves up outside the coffee shop and soon after we started to see some friendly, familiar faces. Heading into a department in person is a great way to offer support and assistance to our customers with any kit that they already have. I am always happy to give impromptu training or answer any questions people have, especially when the lab member turnover cycle means that the PostDoc who ordered and used a certain piece of kit may have left, leaving the group in a flux. The only problem? Packing up at the end!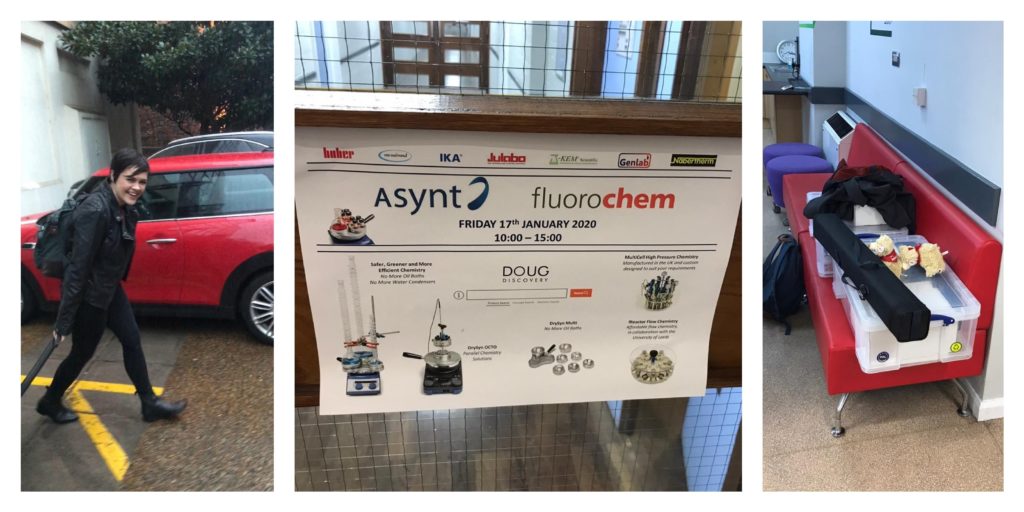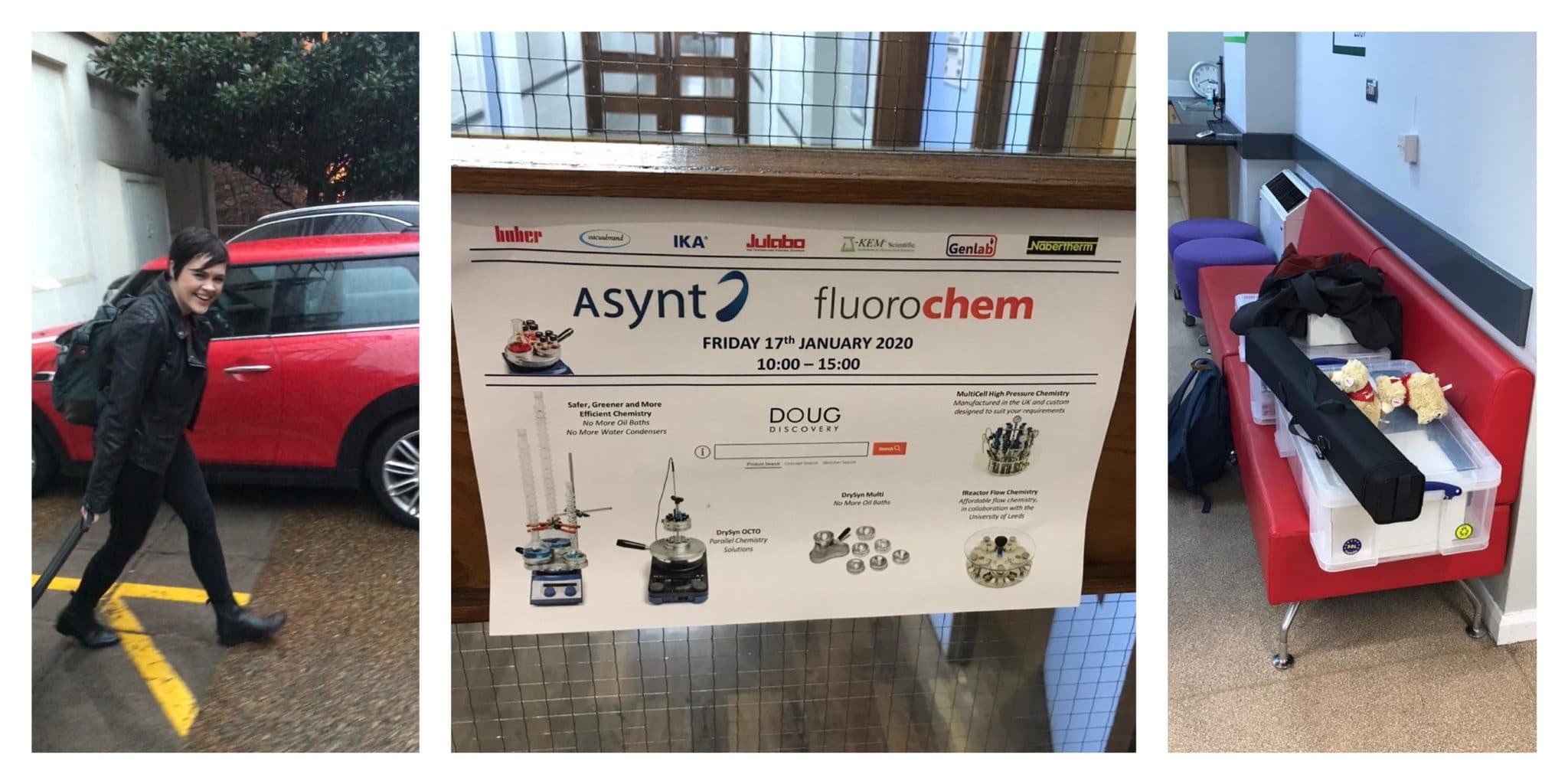 Day 2: Chemistry Department, Cardiff University.
One of the best parts about visiting our customers is getting to see the different lab environments. The Main building that houses the chemistry department is definitely not your typical setting for laboratories, being Grade II listed… You wouldn't think it from the outside but this building houses brand new state-of-the-art labs that form the Medicines Discovery Institute.
Chatting with researchers is always a great way to find out more about the great research going on in a department and what equipment limitations researchers are facing. Tapping into the expertise of the glassblowers and engineers that work with Asynt, it is often possible to develop entire new pieces of kit, designed specifically to a researcher's needs and requirements. This visit saw lots of discussion around the fReactor, a low-cost flow chemistry device, already in use within the department. Following on from this particular meeting we can now offer a custom thermocouple that allows the user to monitor the solution temperature within a fReactor module!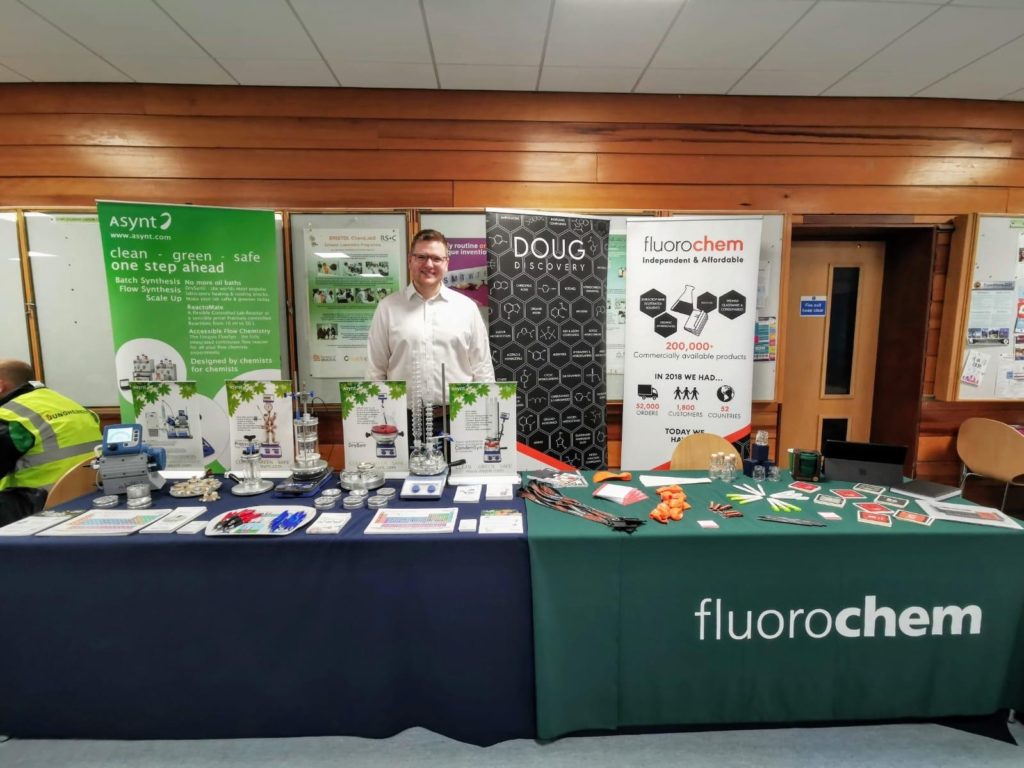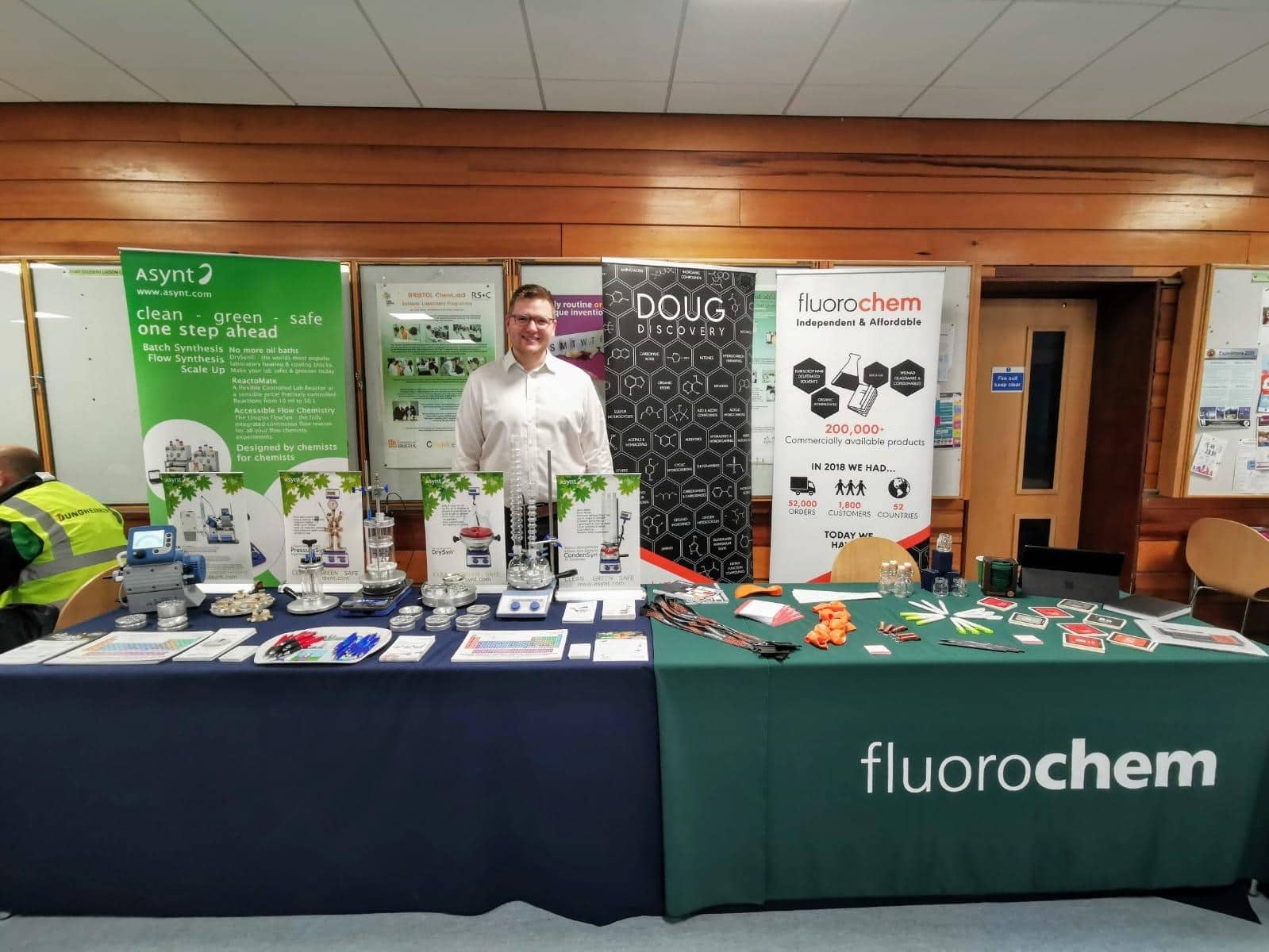 Day 3: RSC Organic Division, South West Meeting, University of Oxford.
Living not too far away from Oxford, I got to spend a night back home, which was fortunate as my car wouldn't start in the morning! Luckily, the breakdown service arrived within an hour and I was on my way, arriving in time for registration and coffee.
This was a fantastic event with an impressive line-up of talks and an RSC Robert Robinson Award Lecture given by Prof. Bernard Golding on 'Understanding DNA Repair Leads to the Anticancer Drug Rucaparib'.
Day 4: Department of Chemistry, University of Reading.
The final day of our tour was at the University of Reading – the chemistry department at Reading has a distinctive double-helix spiral staircase which is pretty cool! Danielle and I got to chat to a wide range of people from undergraduates all the way up to professors and it was great to hear their differing perspectives. A lot of the undergraduates are very aware of the environmental issues that we are facing and it was great to demonstrate how products such as our waterless CondenSyn are helping labs cut down on water usage.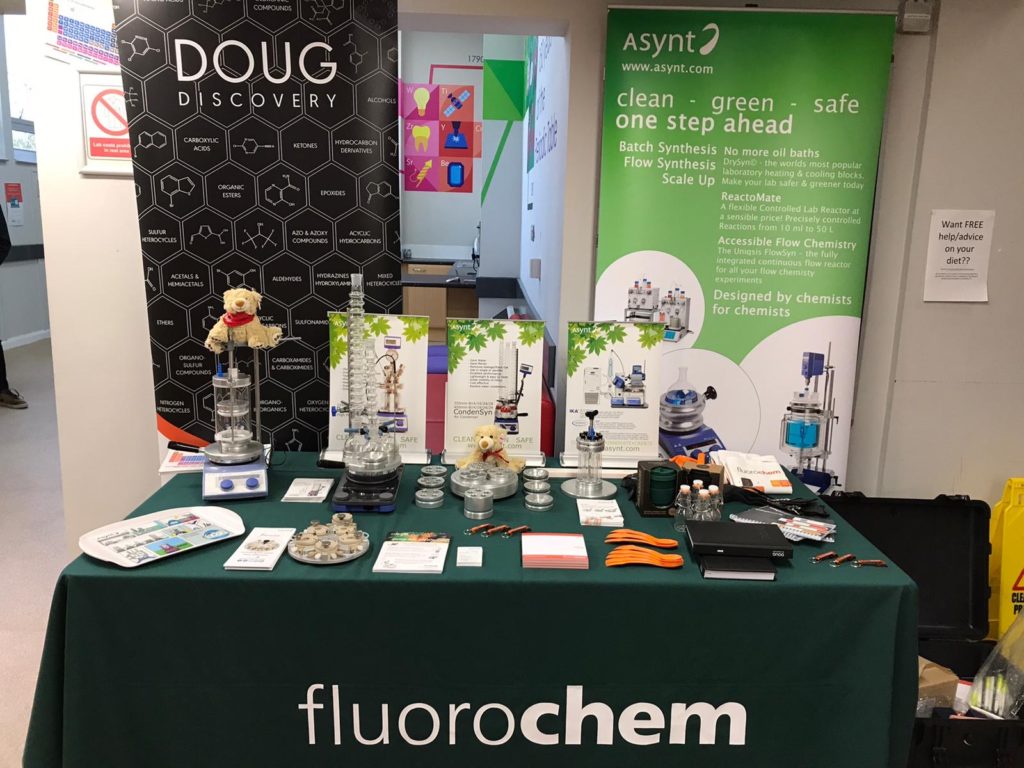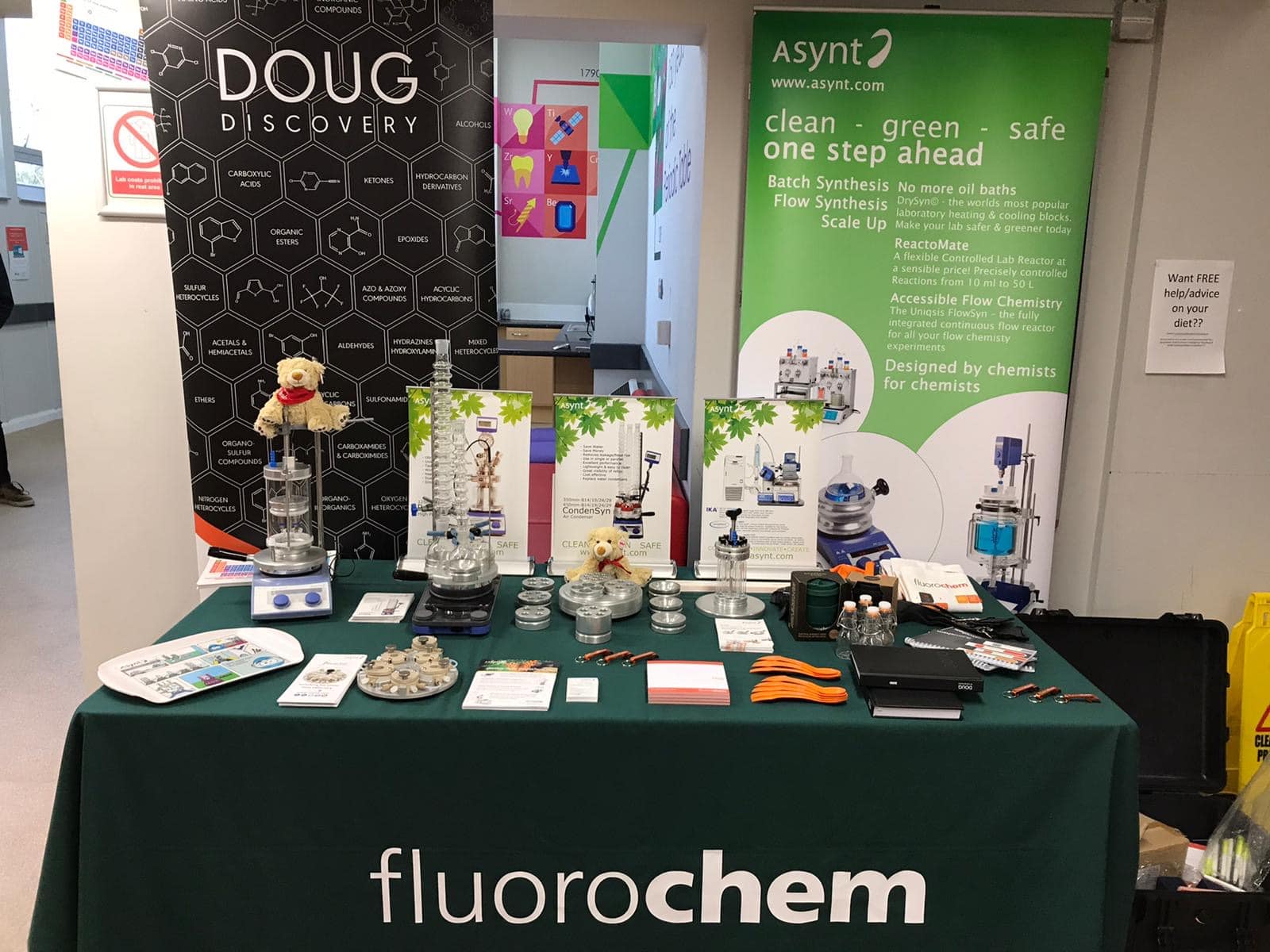 Finally, it was time to head home after 4 brilliant days visiting our customers. We both had a fantastic week out together and I am sure that we will get another tour booked in for later on in the year, so if you would like us to come and visit then please let us know!