Pictured here, Dr Arran Solomonsz and Dr Ffion Abraham are ready to take off & celebrate 50 years of world leading thermocontrol at the #Julabo birthday celebrations!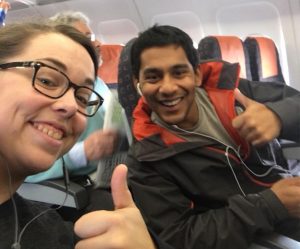 Flying from Luton to Basel, the team were kindly met by their Julabo chauffeur, Erwald, who took them off to their hotel in Europe Park, the Bell Rock.  With nautical themed rooms (think childrens beds shaped like lifeboats and receptionists dressed up like they belong on the Titanic!) it made quite an impression!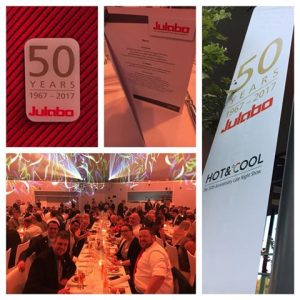 The main celebration was held at the centre of Europa Park and it was a great opportunity for Arran and Ffion to meet more of the Julabo team and hear about the history of the company.  During a delightful meal (food is definitely the way to our teams' hearts!) entertainment included interviews with the Julabo founder, Gerhard Juchheim, and his son, Markus Juchheim (currently in charge), a Julabo quiz, and question time with Mark Bitterwolf, Director of Sales and Marketing. There was also a professional juggler and aerial acrobatics!
Following the meal there was lots of time to talk to other attendees and make interesting connections which was very useful and enjoyable.
The next day our team were transported over to the Julabo factory in the town of Seelbach for a full tour!  It was incredibly interesting to see the whole process from manufacture, testing and shipping of the apparatus.  Having worked closely with Julabo for many years this opportunity was much appreciated.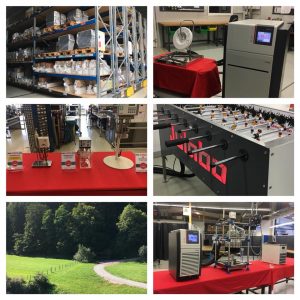 We look forward to many more years of building our relationship with this prestigious manufacturer and thank them for all their help!