The surroundings of Churchill College, Cambridge, provided the ideal setting. Around 100 process chemists and exhibitors descended on the immaculate University grounds, yet everything seemed to be very much in hand. After collecting my exhibitor badge from a smiling face I was directed to my allocated table. Granted it might seem like a small victory, but I was chuffed with the location. Next to the caffeine. Pride of place!
After cautiously assembling the stand with our various wares, involving minor positional adjustments for the full visual experience and overall major perspiration, a steady stream of interested parties greeted me.
During quiet periods when the delegates were attending lectures, I grabbed some fresh air to make some calls. The surroundings of the out-of-term-time University were serene as can be.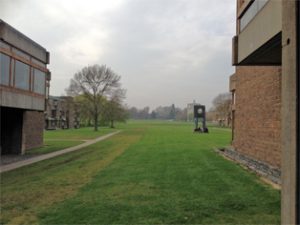 As a first time sole exhibitor, I was struck by the attention to detail which made the event run so smoothly. For instance, not only did all the exhibitor stands look pristine, so did the surroundings. From the lawns to the drinks table where perfect diamond shapes were sculpted out of wine glasses. It all added to the experience, which was a joy to be a part of. Here's to many more!