Multi-scale Laboratory Reactor Systems
At Asynt we offer a wide choice of fully customisable multi-scale laboratory reactor systems to suit a range of sizes from the very small to the very large reactor vessel but in addition to these, we offer fully bespoke systems to suit your own individual requirements.  Our ReactoMate range is hugely customisable, with options to suit those working on both benchtop and pilot scale, heated and/or cooled, with expertly made scientific glassware.
Perhaps you require a series of linked vessels that need to be supported and connected to temperature control apparatus? Or maybe you need a support stand that can be used as easily for a 100 mL capacity vessel as a 5,000 mL capacity vessel with both in use simultaneously?  Where one of our wide range of flexible lab reactor support stands doesn't quite suit your requirements, we can design and manufacture a bespoke system, factoring in vessel(s) size, required agitation and temperature control along with your available space – a key consideration in the small footprint of most laboratories – and your budget.
By choosing multi-scale laboratory reactor systems for your lab, you're making the most of your available space for your process chemistry, and future-proofing for your ongoing needs.  This allows for easy scale-up, and flexible use of accessories.
Talk to our chemists today about how we can improve your lab experience with a perfectly designed reactor system.
We can work with you to adapt any of our off-the-shelf ReactoMate laboratory reactor systems or design a bespoke system to suit your individual requirements.
By tailoring the system with unique engineered supports, novel PTFE components, outstanding scientific glassware and state of the art temperature control apparatus we can provide you with a laboratory reactor system that works to whatever scale is desired.
UK / Europe / Global Delivery
Developed in collaboration with our clients / Bespoke design service
Committed to developing sustainable & practical improvements for scientists worldwide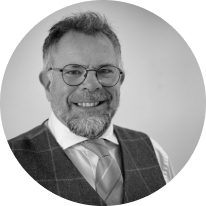 Asynt's unique range of innovative and sustainable products/services are developed by chemists for chemists - to make your lab life easier.
Martyn Fordham, MD
Customers also purchased