Julabo HighTech HE & HL Series
The HighTech Series features refrigerated heating /circulators with innovative technology for sophisticated applications. The instruments provide powerful, electronically adjustable pressure and suction pumps.
The top-of-the-line models with HL circulators offer professional technology and maximum functionality. The additional LCD dialog display interactively assists the user in setting circulator parameters.
Intelligent Cascade Control (ICC) and Temperature Control Features (TCF) ensure optimal control behavior. HL circulators also have a Stakei connection.
General features of this series

Models for working temperatures from -95 °C to +200 °C
All models feature user-friendly, intuitive operation
Extra bright, easy to read displays
Quick and highly precise results thanks to state-of-the-art control technology
Many professional functions for adjusting control parameters, temperature calibration, temperature profiles, etc.
High heating and cooling capacities for demanding applications
Powerful circulating pumps, electronically adjustable in steps
Intelligent warning and safety functions
Unique early warning system for low liquid level
Digital and analog interfaces for flexible communication
Wireless monitoring and operation with WirelessTEMP (accessory)
Maximum cooling capacity at all temperatures (Active Cooling Control)
Removable venting grids for quick and easy cleaning
Energy-saving proportional cooling control (FP Series)
Heated bath cover plate to prevent condensation or ice build-up
All parts in contact with the bath fluid are made of stainless steel or high grade plastic
UK / Europe / Global Delivery
Developed in collaboration with our clients / Bespoke design service
Committed to developing sustainable & practical improvements for scientists worldwide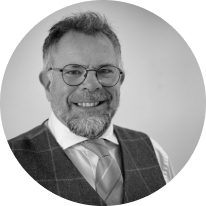 Asynt's unique range of innovative and sustainable products/services are developed by chemists for chemists - to make your lab life easier.
Martyn Fordham, MD
Customers also purchased