Julabo FL-Series
The FL series offers a new generation of chillers for routine cooling applications within the laboratory and industry.
The temperature stability of the PID control is ±0.5 °C and all units can easily be cleaned -they are provided with a splash water proof keypad with LED temperature indication. On the front of the units there is an RS232 interface as well as an alarm shutdown.
The filling port is easily accessible placed on the top under a lift-up cover. Another hinged tray serves as a file for the operating manual or other documents concerning the installation. The removable venting grid allows an easy cleaning of the condenser, the drain tap is easily accessible behind the grid.  All models include an easily visible level indication. Another advantage is the venting slots are on the front and rear and therefore the units can be placed directly one beside the other (space saving).
Common features of the range:

Ergonomic design and easy operation
Splash-proof keypad
Large, bright LED display
Reliable Microprocessor PID temperature control
Powerful immersion pumps, suitable for continuous operation
Permissible temperature in return line +80°C
Easy filling and Drain tap easily accessible
Low liquid level protection with optical and audible alarm signal
Integrated stainless steel bath tanks
Removable ventilation grid
Front drain
No side vents, instruments can be placed right next to other equipment
RS232 interface for PC connection
IP class according to IEC 60529: 21
Alarm output, potential-free change-over contact (max. 30 VA)
Pressure Indicator
By-pass valve to adjust pump pressure
Optical filling level indicator
UK / Europe / Global Delivery
Developed in collaboration with our clients / Bespoke design service
Committed to developing sustainable & practical improvements for scientists worldwide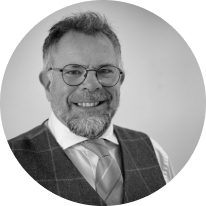 Asynt's unique range of innovative and sustainable products/services are developed by chemists for chemists - to make your lab life easier.
Martyn Fordham, MD
Customers also purchased