Julabo FC-Series
The JULABO FC recirculating coolers impress with their compact design that makes setup under a lab bench possible.
The bright MULTI-DISPLAY (LED) is easy to read even at a distance and provides all the important information about actual and setpoint values.
The automatic self-test at switch on, sensor operation monitoring, pump and compressor protection and a full unit shut-off in case of alarm provide more safety.
High/low temperature warning features also ensure optimal protection, as does the freeze and dry running protection.
For your application these advantages mean a consistent working temperature, uniform pressure in the circulating pump and no contamination in the cooling circuit.
Common features of the range:

RS232 interface for PC connection
Adjustable ratio for feed/return temperatures
Easy filling system located at the front
Bright MULTI-DISPLAY (LED)
Upper and lower temperature warning functions with interval tone
Integrated freezing protection and dry-running protection
Rapid and easy operation via seamless, splash-proof keypad
Liquid level indication on the front
Self-test, reciprocal sensor monitoring, pump motor and compressor overload protection
Complete shut-down with audible signal in case of an alarm
ATC function for simple correction of temperature variations
High temperature stability
Integrated heater with 1.2 kW capacity
Ergonomic design and easy operation
Optical filling level indicator
Removable venting grid for simplified removal of dust
Connections for external Pt100 sensor
UK / Europe / Global Delivery
Developed in collaboration with our clients / Bespoke design service
Committed to developing sustainable & practical improvements for scientists worldwide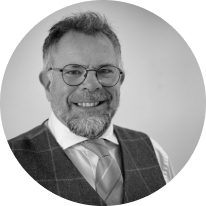 Asynt's unique range of innovative and sustainable products/services are developed by chemists for chemists - to make your lab life easier.
Martyn Fordham, MD
Customers also purchased