Julabo DYNEO DD Series
DYNEO DD heating circulators for internal and external applications are equipped with closed bath tanks. The tanks are well insulated and include a coil for counter-cooling. An integrated drain tap makes emptying the tank safe and clean.
The multilingual 3.5-inch colour display and unique rotary knob provide for straightforward and intuitive operation.
General overview of the common features in this series

A wide range of combinations & sizes available, with maximum flexibility through accessories
Large colour display, easy to read from a distance
Easy operation of all parameters using central rotary dial
Strong pressure pump which is continuously adjustable
Operation in multiple languages
Integrated internal programmer allows user to automatically run temperature time profiles
Remote control made easy using integrated USB interface
Connection using RS232 interface (optional)
Analogue interface for the integration into process control systems (optional)
External Pt100 sensor connection for precise measurement & control directly in the external application
Fill level indicator on display for heat-transfer liquid
Visual & acoustic early warning of critical states which increases process stability
Full regulation of the dynamics control, access to all important control parameters for individual process optimisation.
ATC3 – 'Absolute Temperature Calibration' for compensating a physically caused temperature difference.  3 point calibration
Integrated ventilation directs air over the bath lid and minimises condensation
Rubber feet for stable base.  Larger & more powerful units also have integrated rollers for safe, easy handling
PID temperature control with drift compensation and adjustable parameters, improved temperature stability for external applications.
Inclined pump connections (M16x1) facilitate the connection of applications.  Each unit includes 2 barbed fittings of 8/12 mm diameter each
All vents and connections are on the front or rear of the circulator, allowing you to place it right next to another application, another unit, or wall so great for best use of your available space
UK / Europe / Global Delivery
Developed in collaboration with our clients / Bespoke design service
Committed to developing sustainable & practical improvements for scientists worldwide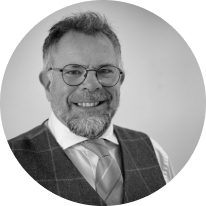 Asynt's unique range of innovative and sustainable products/services are developed by chemists for chemists - to make your lab life easier.
Martyn Fordham, MD
Customers also purchased