Julabo CORIO CD & CP Series
Refrigerated / Heating Circulators of the new CORIO series distinguish themselves with a great price-to-performance ratio. They are ideal for all standard tasks and routine work in laboratories and industry.
Refrigerated Circulators from the CORIO CP range are suitable for applications with a temperature range up to +200°C. The enhanced pump performance ensures they are suitable for easy temperature control tasks in combination with external applications.
Overview of common features in the CORIO series

Bright display with clear illumination (easily read from a long distance)
Intelligent operating concept.  Ready for operation quickly and easily
Integrated timer function
All operating controls and safety functions are accessed from the front
The pump is controlled via a lever located directly below the display.  Easily change between internal and external circulation
Ergonomic plastic handle protects your fingers from hot surfaces
USB connection and/or RS232 interface (depending on model)
Thanks to the recessed cooling coil, the internal bath provides more space
Space saving design – vents and connections all on front and rear sides to allow the CORIO to be positioned right next to an application, another unit or wall
Handles front and rear to allow for easy moving of the unit
Over-temperature cut off and low liquid level alarm
Absolute temperature calibration
PID1 control and 'Active Cooling Control'
Well insulated with integrated ventilation which directs air over the bath lid and minimises condensation
Lockable power plug guarantees safe connection for high process safety
Easy draining of bath fluids without tools
Inclined pump connections (M16x1) facilitate the connection of applications.  Each unit includes 2 barbed fittings of 8/12 mm diameter each
UK / Europe / Global Delivery
Developed in collaboration with our clients / Bespoke design service
Committed to developing sustainable & practical improvements for scientists worldwide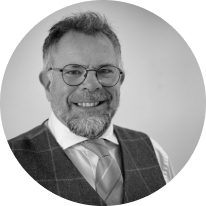 Asynt's unique range of innovative and sustainable products/services are developed by chemists for chemists - to make your lab life easier.
Martyn Fordham, MD
Customers also purchased