IKA RV 3 V-C Rotary Evaporator
The new IKA RV 3 V-C Rotary Evaporator is the ideal entry-level model of the IKA rotary evaporator range. It finds a multitude of uses in the chemical, pharmaceutical, and biotechnology industries, in research and development, in manufacturing and quality assurance, in laboratories, and in plant construction.
Thanks to specially designed glass guides, the transparent vertical coated condenser makes extremely efficient use of the 1500 cm² cooling surface.
New: 4 l heating bath for up to 100°C
water heating bath with digital temperature display and carrying handles
mechanical lift end-point safety stop
locking mechanism: red indicator shows unlocked position of the vapor tube
manual lift for precise positioning of the glassware
adjustable immersion angle
single-handed manual lift handling, suitable for left and tight-handed operators
stepless speed setting with dial control and speed display
speed range: 5 – 300 min-1
low device voltage (24V) ensures user safety
flask clamping mechanism with integrated push-off function for easy exchange of evaporation flasks
high-efficiency condenser with 1500 cm² cooling surface – low space requirements
compatible with the entire range of IKA RV 10 glassware
UK / Europe / Global Delivery
Developed in collaboration with our clients / Bespoke design service
Committed to developing sustainable & practical improvements for scientists worldwide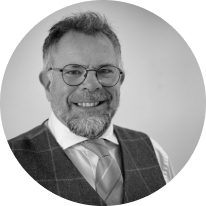 Asynt's unique range of innovative and sustainable products/services are developed by chemists for chemists - to make your lab life easier.
Martyn Fordham, MD
Customers also purchased