Grant LT ecocool 100
The Grant LT ecocool 100 is a NEW energy efficient refrigerated/heating circulating bath.
With significant running cost savings this system still delivers powerful cooling capacity.  With a temperature range from -20 oC to 100 oC.
Dimensions: H: 640mm / D: 430mm / W: 245mm
Weight: 29kg
Suitable for applications such as:
Pharmaceutical – mini pilot plant reactors
Education – rotary evaporator cooling, replacement of running tap water cooling, immersing small samples, photometry, chromatography systems
Industrial – QC testing, sample preparation, general cooling, reaction chemistry, temperature control, semi-conductor manufacturing, rheometry
Food – refractometry
Life-Science – electrophoresis cooling
High temperature cooling – active up to 150 oC
Temperature range: -20 °C to 100 °C
Temperature stability: ± 0.05°C
Flow rate (max): 17 L/min
Pump pressure (max): 250mbar
Tank volume: 5L
Working Area (d x w): 118 x 154mm
Min/Max liquid level: 85/145mm
Calibration points: 2
Cooling power (typical): @ 20 °C = 240W, @ 0 °C = 200W, @ -10 °C = 100W, @ -20 °C = 30W
Display: 4 digit LED
Timer: 1 min to 99hrs 59 mins
Temperature presets: 3
Alarms: high
Electrical power (max): 2160/2070 W (60/50 Hz)
Safety: 120V/230V Adjustable over temperature cut-out
Ready to use kits: assembled & supplied with standard tubing, insulation, clips and connectors.
UK / Europe / Global Delivery
Developed in collaboration with our clients / Bespoke design service
Committed to developing sustainable & practical improvements for scientists worldwide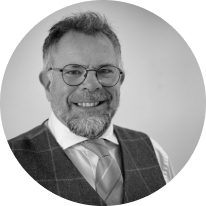 Asynt's unique range of innovative and sustainable products/services are developed by chemists for chemists - to make your lab life easier.
Martyn Fordham, MD
Customers also purchased