The DrySyn SnowStorm Reactor
The DrySyn Snowstorm reactor offers an attractive solution to low temperature reaction chemistry.
Purging the dome with nitrogen / argon prevents the formation of ice around the reactors at sub-ambient temperatures.
Active temperature control from -30 oC to +150 oC  permits unattended operation of up to 27 vials at any one time.
With a small bench top footprint, the DrySyn Snowstorm allows increased throughput and screening without taking up valuable fume hood space.
Our gallery images show the DrySyn SnowStorm reactor with both Grant and Julabo chillers.
Made in the UK.
Minimum. solution temperature* -30 o

C

Active temperature control from -30 oC to

+150 

o

C

Kit supplied:  Cooling base, glass dome, one pack of 3 standard reaction vial inserts as detailed below.
This base will also fit our Multi/Multi-M/Multi-S range of inserts for round bottom flasks from 5 mL to 500 mL.
Base has 9.5mm OD hose-barbs on, which will be compatible with 8mm ID tubing
Vial / Tube Reaction scale:
Standard sizes, each 4 position except 27.40mm / 28.20mm options:
11.80mm (will fit 2 mL HPLC sample vials)
15.00mm (will fit 1 dram vials)
16.20mm (will fit CEM microwave tubes)
17.40mm (will fit Biotage 2-5 mL microwave tubes)
20.20mm (will fit robot tubes)
24.40mm (will fit Radleys tubes)
25.75mm (will fit Wheaton reactor vials)
27.40mm (will fit 20 mL Scintillation vials) this size is a 3 position
28.20mm (will fit large Biotage tubes) this size is 3 position
Custom : Choose any diameter up to 28.20mm
Material: anodised aluminium
Base diameter: 87mm
*Attained with Huber Ministat 240 (without insulation).
UK / Europe / Global Delivery
Developed in collaboration with our clients / Bespoke design service
Committed to developing sustainable & practical improvements for scientists worldwide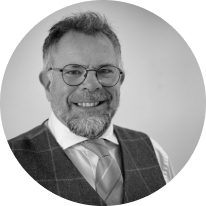 Asynt's unique range of innovative and sustainable products/services are developed by chemists for chemists - to make your lab life easier.
Martyn Fordham, MD
Customers also purchased