Borosilicate electrochemical cells
Borosilicate electrochemical cells are widely used in chemistry, materials and chemical engineering labs around the world for a variety of applications including catalysis studies, development of sensors, battery and fundamental inorganic chemistry research.
Borosilicate electrochemical cells can range in size and style, but we make these to reflect the specific needs of our customers; simple and complex, manufactured to a large range of volumes, with and without jackets, and any other variation you may require.
We can use glass frits to provide the salt bridge, flanges to hold membranes between cell halves and add quartz windows for photoelectrochemical (PEC) cells as well. We can also provide a variety of port options for electrodes, although we recommend threaded styles, such as GL14 equipped with caps, seals and septums for safe insertion of probes.  Our expert scientific glassblowers can tailor everything to your individual specification.
Additionally, our cells can be made to host a variety of working electrodes, including our very own platinum flag electrodes.
If you'd like to discuss the many variations and options available please don't hesitate to contact our chemists.
Our borosilicate electrochemical cells are always made to suit your specific requirements.  Please discuss your chemistry with our team to ensure the optimum set up.
Bespoke manufacturing by expert scientific glassblowers
Made in the UK
Customise, don't comprise: huge range of options available to suit your chemistry requirements
UK / Europe / Global Delivery
Developed in collaboration with our clients / Bespoke design service
Committed to developing sustainable & practical improvements for scientists worldwide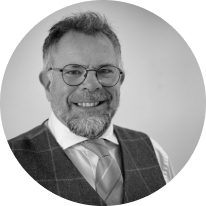 Asynt's unique range of innovative and sustainable products/services are developed by chemists for chemists - to make your lab life easier.
Martyn Fordham, MD
Customers also purchased