This unique online event is the UK-Poland-Ukraine Bioinspired Materials Conference which will take place on Tuesday 29th and Wednesday 30th November 2022.
Bringing together scientists from all 3 locations, the event is endorsed by the United Kingdom Society for Biomaterials (UKSB) and the Polish Society for BioMaterials (PSB).
Find out more about the event from Dr Timothy Douglas via the short video below
If you're interested in attending/participating:
Those interested in participating are requested by the organisers to contact Dr Timothy Douglas via email at [email protected].
UK, Polish and Ukrainian Early Career Researchers (postdocs and PhD students) are invited to give oral and poster presentations.  Those wishing to present should request an abstract application form via Dr. Peeters at [email protected].  Abstracts will be published in the conference programme.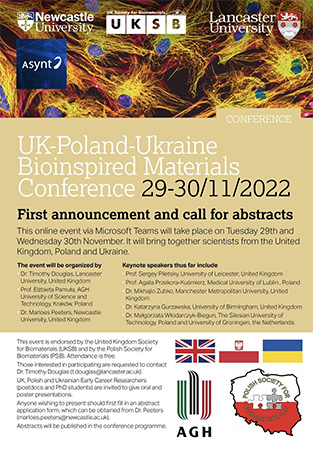 Keynote speakers agreed so far include:
Prof. Sergey Piletsky, University of Leicester, UK
Prof. Agata Przekora-Jusmierz, Medical University of Lublin, Poland
Dr. Mikhajlo Zubko, Manchester Metropolitan University, UK
Dr. Katarzyna Gurzawska, University of Birmingham, UK
Dr. Malgorzata Wlodarczyk-Biegun, The Silesian University of Technology, Poland and the University of Groningen, the Netherlands
Asynt is proud to be sponsoring this free-to-attend event and look forward to seeing the Twitter poster conference taking place.  Follow via their account here: https://twitter.com/ukplbioinspired
We hope you can join us at the UK-Poland-Ukraine Bioinspired Materials Conference 2022!
Get in touch any time – any place…
In the meantime, are you aware that whilst Asynt ships globally, we also have a wide network of distribution partners all over the world?  Find your local supplier via our directory here: https://www.asynt.com/distributors/
or you can talk to our team of experts here at Asynt:

We look forward to talking with you soon!