Dr Arran Solomonsz worked with Associate Professor of Chemistry, Dr Anthony Chianese from Colgate University (Hamilton, NY, USA) to provide a custom Multicell Parallel Pressure Reactor to meet the very specific requirements of his organometallic chemistry research laboratory.
The reactor was manufactured in the UK from stainless steel with 10 cells, each 30 mL volume, suitable for use to 50 bar at up to 250 ºC.  Additional accessories included the following:
1 internal thermocouple
5 cells equipped with custom liquid sampling system
Custom scaffold/framework for attaching additional sampling system pipework to Multicell body.
The liquid sampling system allows up to 15 aliquots to be taken, assuming a reaction volume of ≥10 mL.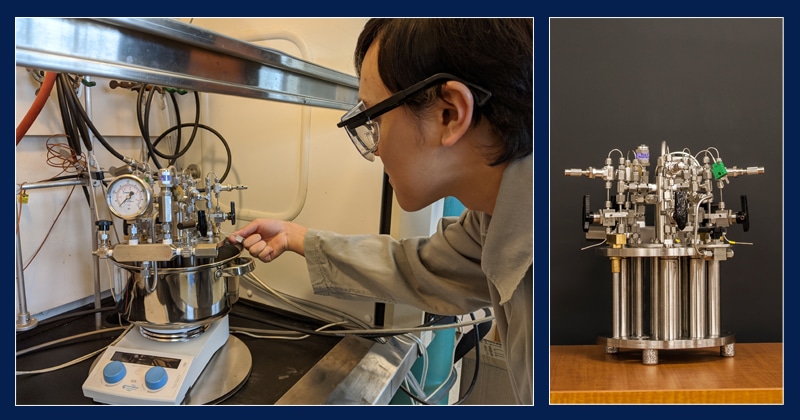 The team develop catalysts for the hydrogenation of polar compounds and study their mechanisms of action. They use the Multicell to conduct reproducible kinetics experiments in parallel to rapidly determine the kinetic parameters of their catalysts.  Their goal was to be able to conduct many hydrogenation reactions at once, with rigorous control of the initial concentrations and reaction temperature. They also needed to be able to analyse reaction aliquots over the time course of the reaction for kinetic analysis.
Dr Chianese states:
"Before we had the capabilities of the Multicell we used to see transfer of volatile chemicals between tubes and we can only analyze reactions at the end. The Multicell allows us to conduct many reactions in parallel with no detectable crosstalk between the reaction headspaces. Importantly, because we can analyze aliquots while the reactions are running, we can determine reaction rates.

We can very rapidly determine the rate law for a catalytic hydrogenation reaction.  We study highly air-sensitive catalysts, so it is great to be able to bring the whole reactor inside the glovebox, assemble the reactions, then bring it out to run them.

I really like the fact that the whole unit is very user-serviceable.   All of the parts aside from the cells themselves can be replaced easily if there is an issue.  We have also easily replaced clogged tubing using pre-cut lengths purchased separately. "
When asked if he would recommend the system to other researchers, Dr Chianese responded:
"Yes. I think most people only analyse hydrogenation reactions at the endpoint because they don't have a way to take aliquots, but I think you can study these reactions much more efficiently and deeply if you can do so."
Work carried out with this system can be seen via Journal of the American Chemical Society here – DOI: http://dx.doi.org/10.1021/jacs.9b09326
You can see more of our range of pressure reactors on our website here: https://www.asynt.com/products/high-pressure-reactors/
If you'd like any further information on this system, or one tailored to your specific requirements please contact us!