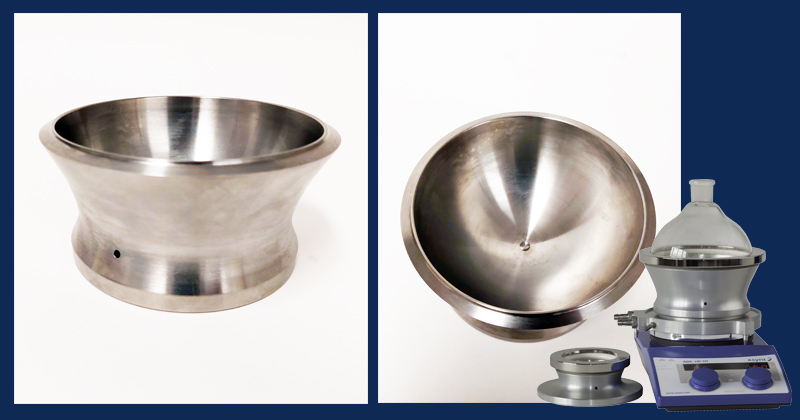 One of our customers is carrying out work that required bespoke Tungsten heating/cooling blocks for radiation shielding so we designed and manufactured these to meet their specific needs.
Sized to suit your radiation shielding scale
These particular 1,000 mL tungsten heating/cooling blocks were engineered to fit with the DrySyn SnowStorm ONE platform that enables temperature controlled reactions in single round bottom flasks from 50 to 1,000 mL.
Typically, DrySyn is milled from the highest quality European aluminium, before receiving an anodised coating – however for radiation shielding this material is not suitable.  Tungsten is incredibly dense and does not allow any radioactive material to permeate it, and is machinable, so it's the perfect material for our customers' requirements.
This particular bespoke project was carried out using WH9766F Tungsten which is commonly used for radiation shielding, balance weights, and ballast.
Together we can devise the perfect solution
Our in-house engineering capabilities enable us to support you in making your apparatus fit to your chemistry, rather than vice-versa.  We believe you should customise, don't compromise!
If you're having trouble find a solution that works for you, we'd love to talk with you and together we can come up with a plan…
You can talk with our experts via the LIVE CHAT box at the bottom right of your screen, send us an email to [email protected], or simply pick up the phone and call us on +44 (0)1638 781709.