Having recently taken a select few distributors under my wing, today I had the opportunity to visit Labo Tech J. Stofer LTS AG, our distributor in Switzerland. As one of our long-standing partners, I was eager to meet their team and introduce myself as their new point of contact at Asynt.
However, after the novelty of landing in a country where the weather was actually worse than the UK, the first challenge was navigating through the jungle that is the Basel road system!  Aided (somewhat questionably) by the car satellite navigation, which recited phrases such as "take the next half right," we headed for the suburb of Muttenz. Your guess was indeed as good as ours as to what constituted a fraction of a turn!
While I was co-piloting, I had the chance to get my first glimpses of the city of Basel, a place that has a passion for chemistry. From the moment of landing in Basel EuroAirport, you are greeted by advertisements from large pharmaceutical companies, and this is borne out as you drive around the city. This was my kind of place! I couldn't help but overhear the gentlemen at the adjacent dinner table even discussing the ins and outs of many companies recognised for their innovation in chemical fields. Syngenta and Novartis were name-dropped amongst others, quite in keeping with the 'chemistry buzz' around the city. A customer I met informed me that it hadn't always been this way, in fact the city walls were broadened to encapsulate the large companies setting up within Basel.
Anyway, back to business, it was lovely to be received so warmly by the Labo-Tech team. After discussing the new additions to the Asynt portfolio, it was great to hear such an enthusiastic response and the potential interest for a number of their customers. Switzerland – watch this space!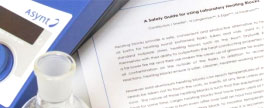 One of my overriding feelings after the day was of positivity, not only at seeing the strong relationship we already have with our Swiss colleagues, but how we can harness that to help future growth. Another thought that struck me was how similar Asynt and Labo-Tech are, not only do we both focus on providing a service with a personal touch for the customer, but also the close-knit teams which enjoy each other's company. Maybe that's also why we've achieved consistent success together, and here's to this rolling on into the future! On behalf of the other distributor managers here at Asynt, Martyn Fordham and Kerry Elgie, we all hope to catch up with our much-valued overseas partners soon.