Where does the story of CondenSyn begin?  Until relatively recently, a big frustration among chemists was finding an effective means to carry out condensation experiments without the worry of flooding their labs due to the huge amount of water used with Liebig condensers.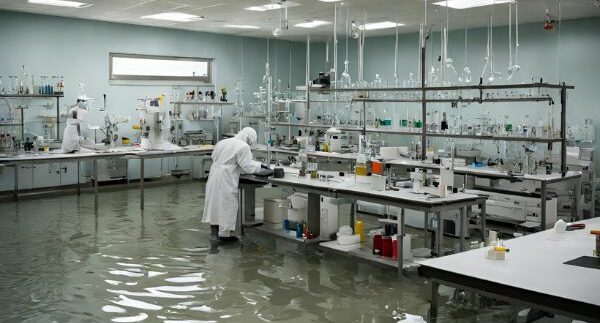 Not only could the floods affect the lab in which the experiment was conducted, but also the lab on the floor below, sometimes causing electrical problems – in themselves, a serious hazard.  Occasionally, condensers were smashed by accident, presenting further stumbling blocks for research and raised costs and time spent.
In short, standard Liebig condensers could make life in the lab frustrating, unsustainable, and inefficient.
Time for change
Our founder and Managing Director, Martyn Fordham, was aware of this and resolved to do something about it.
What if, he wondered, there was a way to minimise, even eliminate, the hazard presented by standard water-based condensers?
And what if there was a way to minimise the huge amount of water that was wasted in these experiments and optimise sustainability in the lab?
Chemistry evaporation and condensing inspiration from an unexpected source
Inspiration came, surprisingly, while Martyn was snapping photos of Burton power station in the autumn mist, on a cold November morning in 2014.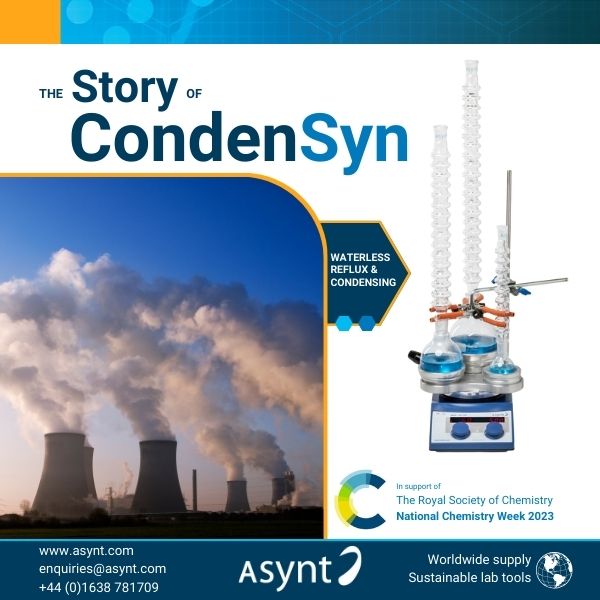 While looking at the photos on his screen, Martyn realised: what was it that made the shape of the power station cooling towers an efficient means of releasing steam and heat?  Moreover, could this design be used for the new condenser that he and other researchers at Asynt had been working on?
After hours of consultations with researchers and developers at Asynt, and multiple conversations with our glassblowers, the first prototypes of a new waterless condenser were ready for testing.
The tests were successful and, after a few refinements, the innovative – not to mention good-looking – CondenSyn waterless condenser was born and presented to the world of chemistry in 2015.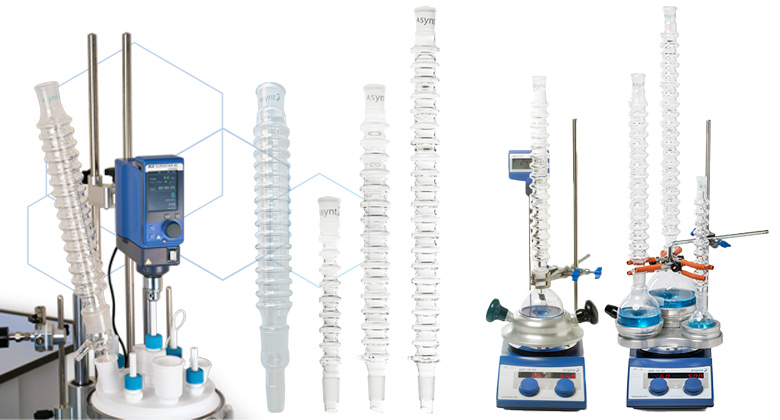 Eight years on, CondenSyn continues to be one of Asynt's most popular products, along with the DrySyn range of oil-free heating blocks (launched in 2003 at Asynt's inception).
Scientists across the world in various institutions are still thrilled by CondenSyn's enhanced delivery of a sustainable solution and durability, without compromising on efficiency and quality.
An effective and sustainable solution
In support of the Royal Society of Chemistry's annual Chemistry Week which is taking place from 5-11 November 2023, we are proud to reaffirm our commitment to designing and producing more sustainable and innovative products as our part in chemistry helping to make the world a better place.
If you'd like to know more about our efforts to promote sustainable chemistry, please click HERE or the image below: