Last week myself and Martyn, along with other members of the Asynt sales team, made the short plane journey over to Frankfurt, Germany to visit ACHEMA 2018. Held every 3 years, ACHEMA is a huge trade show (in 2015 they registered over 128,500 visitors!) which provides the ideal venue to meet up with some of our key partners, develop new supplier relationships and have a look at some of the latest offerings within the chemical process sector.
Attending at the beginning of the week, Kerry spent much of her time catching-up with a number of our international distributors and talking through the latest developments within our DrySyn and CondenSyn ranges; including the brand new distillation adapter. It wasn't all serious conversations though as she also found time for some absolutely ribbit-ing discussions with the Julabo frog!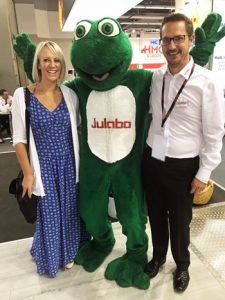 Arriving a few days later (and thankfully missing the torrential rain that seemed to accompany Kerry) myself and Martyn were on a mission to discover all the new and exciting products on display and we did not leave disappointed! Some stand-out examples from our current partners include the latest member of the Julabo PRESTO family, the slick new Vacuubrand VACUU·SELECT® vacuum controller and the flow-chemistry photoreactor module from Uniqsis.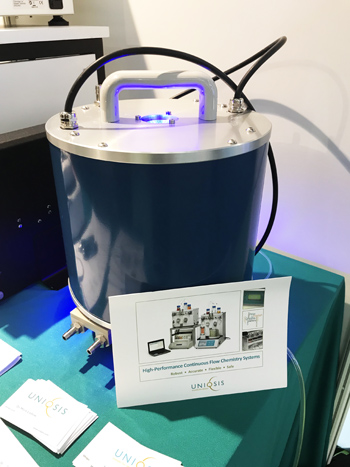 This was my first time at ACHEMA and, even though I'd been warned, I don't think I was quite prepared for just how big it was. With over 3,800 exhibition stands on display I managed to walk over 4 miles in our first afternoon alone and by the evening I was glad I'd decided to pack my comfy shoes! With all that walking done it was important to make sure we kept our energy levels up and Martyn was determined to introduce me to his favourite German delicacy of spargel, which did not disappoint.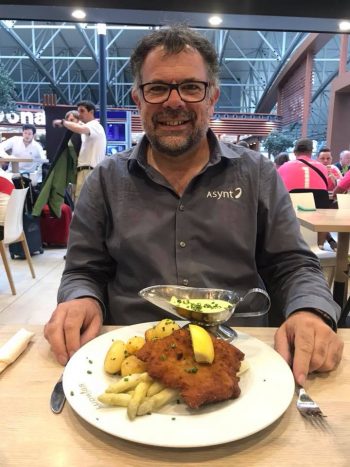 Fuelled by asparagus and inspired by everything on show at ACHEMA our creative cogs have been whirring and we've already had some great ideas for some new additions to the Asynt product range…so watch this space!
Written by: Dr Ffion Abraham, Technology Manager