Asynt is proud to celebrate its 20th anniversary in 2023. This noteworthy milestone marks two decades of experience in the field of providing sustainable solutions to meet the challenges of increasing laboratory regulations.
Click our timeline below to magnify it and see the historical launches of all your favourite Asynt products, and how long our dedicated team members have been here to support you!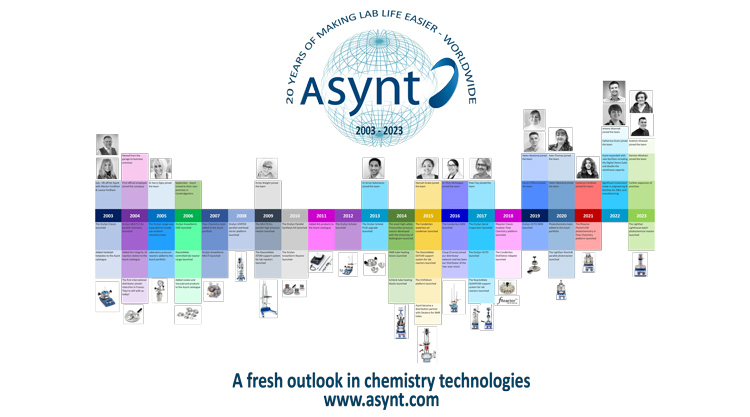 Longevity and stability
Asynt have led the way in offering sustainable and effective solutions for the laboratory from our inception in 2003 and we continue our research and development with these key criteria in mind.  We offer stability, adaptability and resilience for our customers globally through our internal resources and network of distribution partners.
Employee dedication
Achieving a 20-year milestone is a testament to the dedication and commitment of our team.  We maintain a warm and positive work environment, fostering great employee loyalty, retaining our skilled personnel over the years (as you can see from our timeline!) as we grow. This continuity of talent contributes to the company's success by ensuring consistency in its operations, product development, and customer service.
Experience and expertise
Two decades of operation has allowed Asynt to accumulate valuable experience and expertise.  Our team is made up of people who are experienced scientists, experts in multiple fields, skilled and knowledgeable in customer support, and much more.  We also have a wealth of skilled partners whose experience we draw upon in addition to our own.
Trust and reputation
Here at Asynt, we are proud to maintain our reputation for excellence and trustworthiness. We feel that relationships are key, and treat our customers – and our supply network – with the same integrity and respect that we like to receive ourselves.  We believe that honesty and transparency are essential in all our endeavours.
Thank you!
From here, we look to the future of new laboratory tools and expanded chemistry capabilities on the horizon.  We are grateful for our loyal customers and friends support, and hope that you'll join us in celebrating this auspicious milestone.  Thank you for helping us to make lab life easier!