Julabo Quad Manifold
Equal pressure and temperature distribution in each channel. Prevents daisy chaining of condensers together which can lead to increased water temperatures and inefficiency. Also more cost effective as one chiller can cool more than one fractional distillation unit, extraction set up or rotary evaporator.
2 Quad distributing adapters, M16x1, with barbed fittings for tubing 8 mm or 12 mm or 1/2″ ID. Set of two circular quad manifolds with internal baffles for constant water pressure and temperature to all outlets. M16x1 screw thread fittings (which can be fitted with shut off valves), comes complete with all barbed fittings for both 8mm and 12mm/1/2'' ID tubing.
PN: 8970520
Suitable for: F1000, F500, FL1201, FL1701, FL601
UK / Europe / Global Delivery
Developed in collaboration with our clients / Bespoke design service
Committed to developing sustainable & practical improvements for scientists worldwide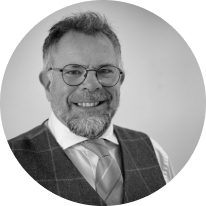 Asynt's unique range of innovative and sustainable products/services are developed by chemists for chemists - to make your lab life easier.
Martyn Fordham, MD
Customers also purchased