DrySyn SnowStorm MULTI Starter Kit
The DrySyn SnowStorm MULTI Starter Kit is a handy kit for unattended operation of up to 3 reaction flasks in parallel with active temperature control of your chemistry from -30 to +150°C via connection to your chosen refrigerated/heating circulator.  This kit is also suitable for heated reactions, providing additional flexibility.
The parallel reaction opportunity combined with the small benchtop footprint allows you to increase throughput without taking up valuable fume hood space which is always at a premium.
This new DrySyn SnowStorm MULTI Starter Kit comes with cooling blocks to suit 25 mL, 50 mL and 100 mL round bottom flasks, with one of each size insert supplied in addition to the DrySyn SnowStorm MULTI base.
If you require further inserts then perhaps consider one of our other useful kits or select individual inserts.  You may also choose additional M16 fittings.
All DrySyn are manufactured in the UK and are fully recyclable.  They are engineered from solid aluminium and have a chemically resistant anodised finish.
Active temperature control of chemistry from -30 to +150°C

 via refrigerated/heating circulator

Compatible with all standard laboratory glassware and magnetic stirrers
Reaction scale of up to 1 each x 25 / 50 / 100 mL
Small benchtop footprint allows users to increase throughput without taking up valuable fume hood space
Unattended operation allows for overnight reactions
Flexibility of different inserts allows you to configure the system according to your requirements
Exchange glassware in seconds
DrySyn SnowStorm MULTI is also able to heat reactions up to 150 o

C

when attached to a circulator
Base has 9.5mm OD hose-barbs on, which will be compatible with 8mm ID tubing
What's included in the kit?
Part number: ADS10-A
This includes 1 x base plate with hose barb connectors and (1 x 25 mL), (1 x 50 mL) and (1 x 100 mL) inserts with weights and flask seals.
UK / Europe / Global Delivery
Developed in collaboration with our clients / Bespoke design service
Committed to developing sustainable & practical improvements for scientists worldwide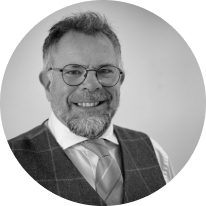 Asynt's unique range of innovative and sustainable products/services are developed by chemists for chemists - to make your lab life easier.
Martyn Fordham, MD
Customers also purchased