DrySyn Reaction Vial Starter Kit
We are pleased to announce that we can now offer DrySyn Reaction Vial Starter Kit.
With so many standard sizes available from stock, you can now choose any three single blocks from the range to form a Starter Kit. You can see a complete list of these on the "specification" tab here online.
This particular kit is currently only available directly from Asynt.
Standard sizes, each 4 position except 11.80 mm / 17.20 mm tapered options:

11.80 mm (will fit 2 mL HPLC sample vials)
15.00 mm (will fit 3 dram vials)
16.20 mm (will fit CEM microwave tubes)
Tapered 17.20 mm (will fit Biotage tapered 0.5-2 mL microwave vials) – This option is currently unavailable as part of the DrySyn Reaction Vial Starter Kit.
17.40 mm (will fit Biotage 2-5 mL microwave tubes)
20.20 mm (will fit robot tubes)
24.40 mm (will fit Radleys tubes)
25.75 mm (will fit Wheaton reactor vials)
27.65 mm (will fit 20 mL Scintillation vials)
28.20 mm (will fit large Biotage tubes)

Supplied in packs of three of any of these standard sizes when purchasing separately from this kit.
Custom made inserts can easily be supplied to suit your chosen vials so please contact us for pricing or information.
Use for safe temperature ramping to 300 o

C

.
UK / Europe / Global Delivery
Developed in collaboration with our clients / Bespoke design service
Committed to developing sustainable & practical improvements for scientists worldwide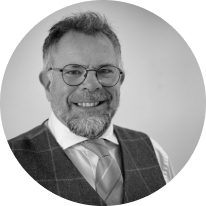 Asynt's unique range of innovative and sustainable products/services are developed by chemists for chemists - to make your lab life easier.
Martyn Fordham, MD
Customers also purchased