Pint of Science 2022 is a worldwide science festival which brings researchers to your local pub/cafe/space to share their scientific discoveries with you – no prior knowledge required so these events are suitable for you to share with friends and family from outside the industry!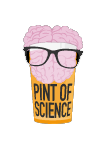 Would you like to know more about the organisers and the events?
The organisation describes itself as:
"… a grassroots non-profit organisation that has grown astronomically over the few years since two people decided to share their research in the pub. Although our mission has expanded, our core values remain the same: to provide a space for researchers and members of the public alike to come together, be curious, and chat about research in a relaxed environment outside of mysterious laboratories or daunting dark lecture theatres.

We believe that everyone has a place at the table to discuss the research going on both on our doorsteps and far beyond. Our missions and visions are based around the people that matter most: our audience, volunteers, speakers, and our wider research community. "
Where is my nearest Pint of Science 2022 event?
With over 600 events over 45 cities, there's something to catch your interest no matter what your penchant for knowledge-seeking is!
Pint of Science 2022 is taking place from 9th to 11th May – we hope you'll take a look and see if there's something happening in a city near you…
With locations within the UK and Worldwide, see full details here: https://pintofscience.co.uk/locations/ or check out the groups Twitter feed here: https://twitter.com/pintofscience
Further reading
If this kind of thing is your cup of tea then you might be interested in reading a blog we recently shared, looking at Citizen Science.